With a constant publishing of useful content you can earn from your passion. Your ideas could be published world wide by creating YouTube channel and it can bring some earning to you if your have such a nice content in your videos. So lets see how to create a YouTube channel and earn from it.
Creating a YouTube channel is the best and easy way to publish your ideas to people because you just need to create some videos of your content. Sounds very simple, but you have to work hard to get better results. Your content must be useful and unique from others. You should be enough creative to find new and interesting content. So nothing is much easy and "hard work pays". Any way you can use this time for something new.
So in this article we will show you everything you need to create a YouTube channel and earn from it. Creating good content is very important. We will give you some tips and ideas for creating good content.
How to Create a YouTube channel ?
For Creating a YouTube channel you have to choose a niche (topic). Choose a topic a that you know and create videos on that. Create videos about what you know. And you should find a good name for your channel that's very important. Choose a good name related to your niche(topic). Now I will show you how to create a channel and how to upload videos in it.
Step 1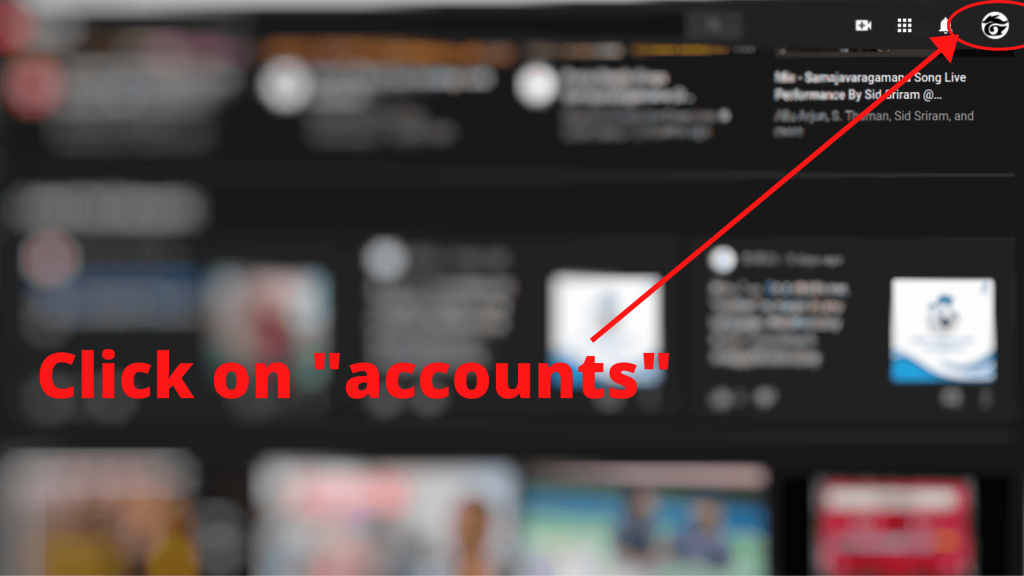 First click on accounts on the right side
Step 2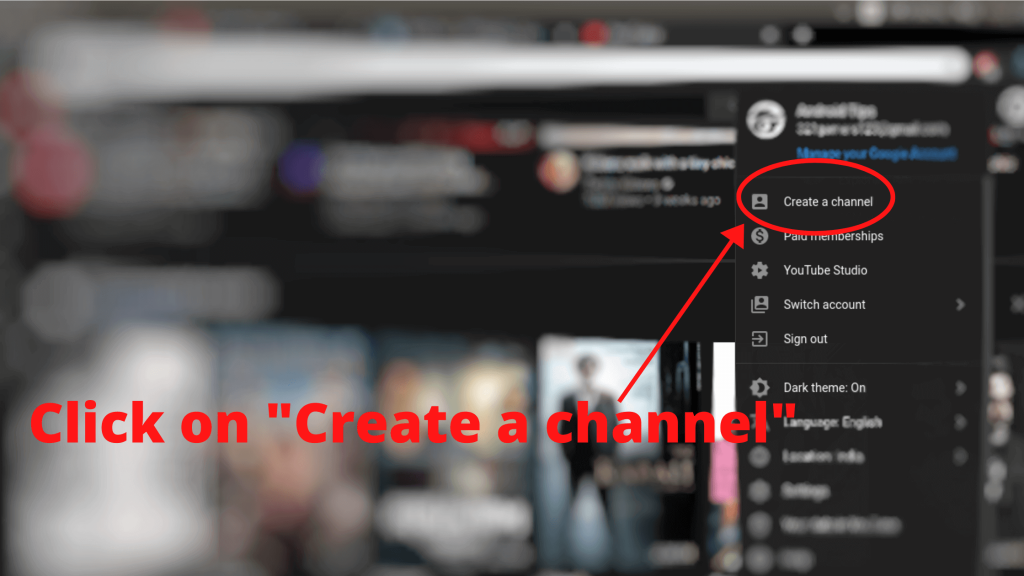 Then, a dialog box opens and click on "Create a Channel"
Step 3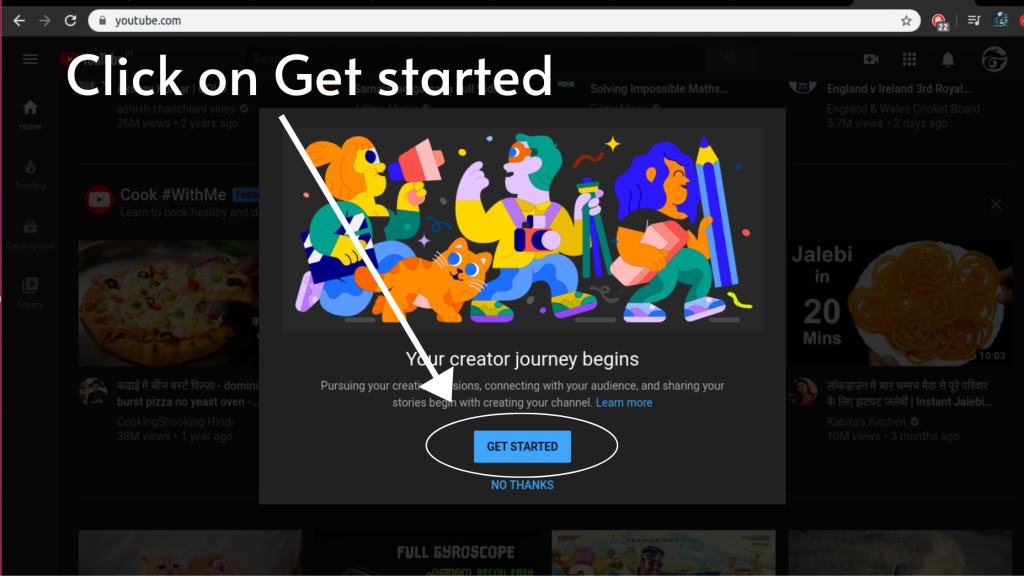 Now your creator journey begins , Click on Get started.
Step 4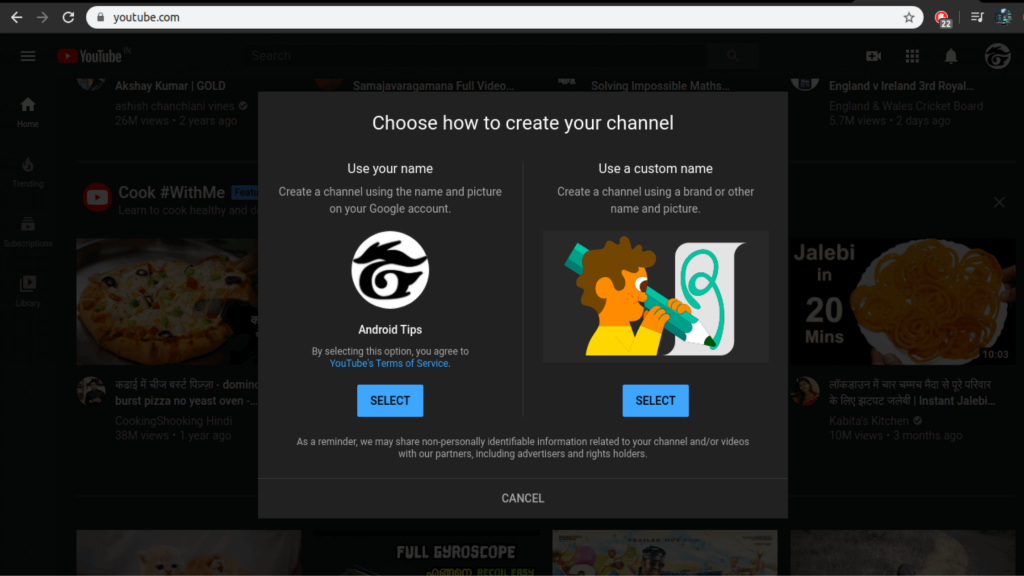 Choose how to create your channel. Either by your account name or you can start channel by new name or brand.
Step 5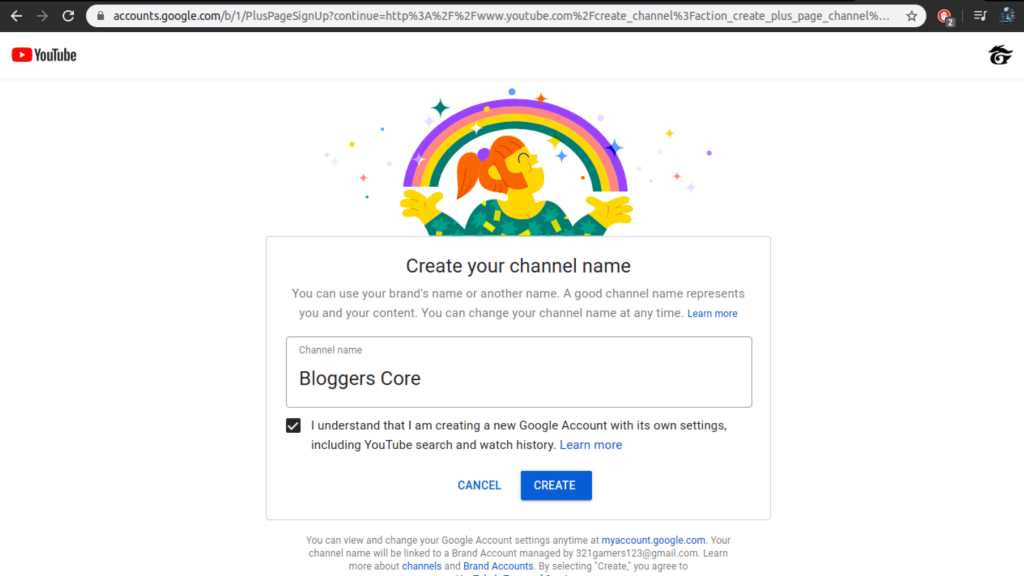 Choose a name for your channel and check the box. Then click on Create.
Step 6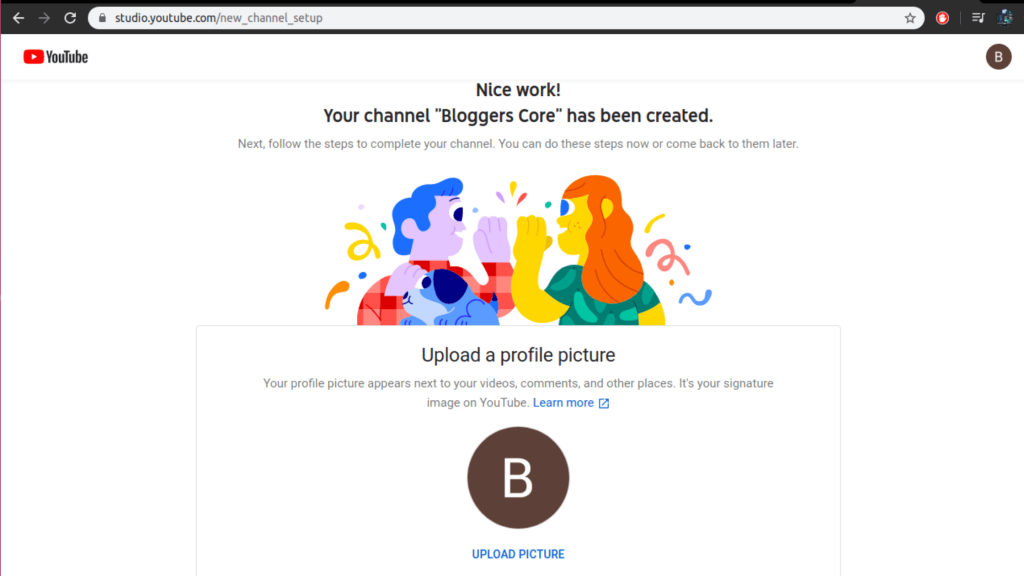 Good job ! You have created a YouTube channel. Now upload a profile picture.
Step 7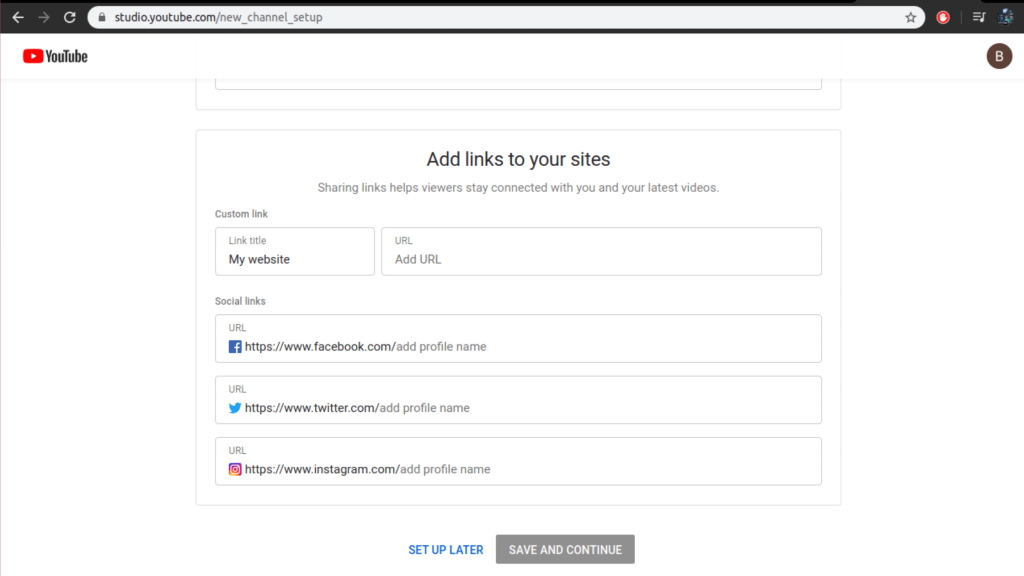 Add your Social media links to your channel. You can skip it if you want. You could add it later.
Step 8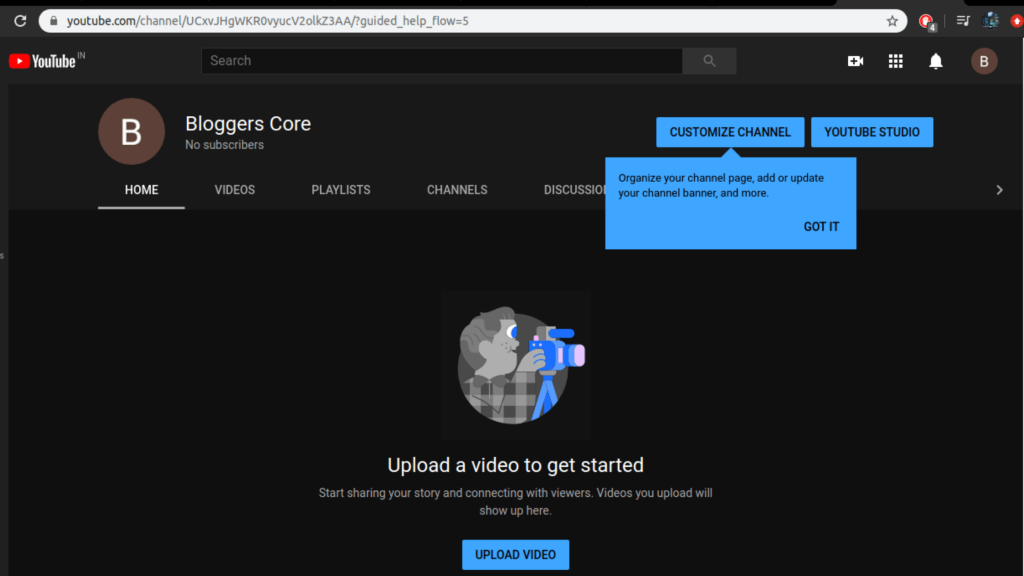 And now your channel has been Created. Upload videos to get started.
Choosing a niche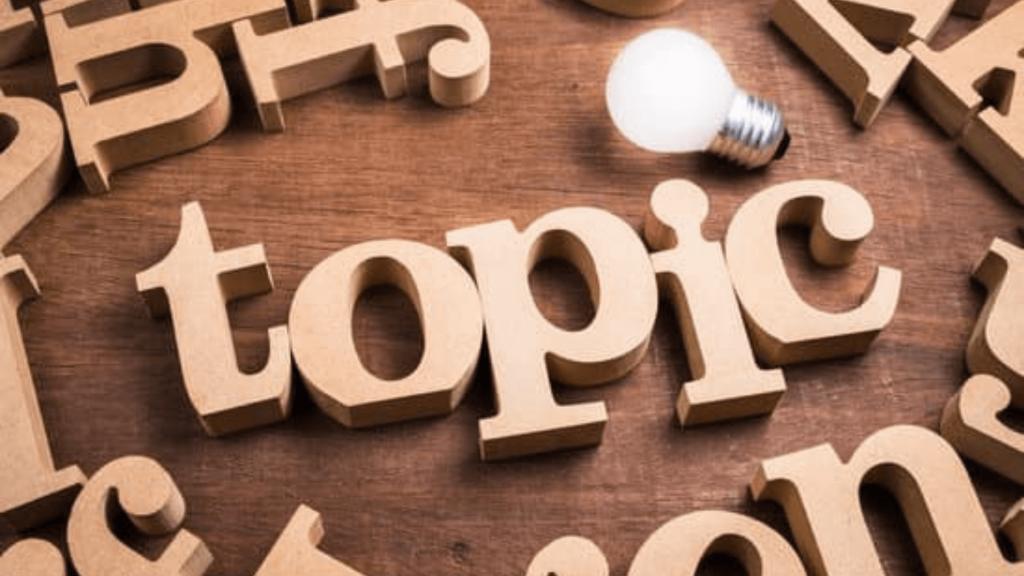 What niche Should i Choose for my YouTube channel ?
Choosing a good niche is very important. For choosing a perfect niche, first find your interest. I mean, make videos on what you know and what you are interested in. It is not necessary to know everything about your niche. You can do some research and learn about it and make video on it but you should be interested on it. if you take a niche on something that you are not much interested, you would stop it the in middle because you will get bored. So make videos on a subject in which you are interested. That makes your content more beautiful and unique. If you make videos on something you love to do, it will make your content unique and you will have your own unique way to do it. For example if you love cooking, make videos on that in your own way and recipes.
Choosing a Name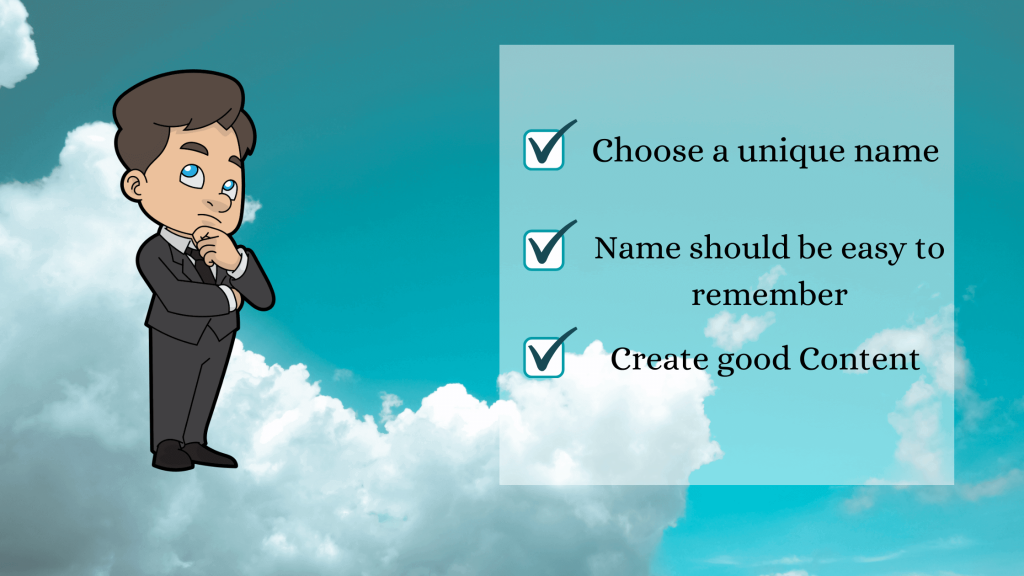 What name should i choose for my YouTube channel ?
Choose a name that is related to your niche. There are channels whose name is entirely different from their niche but it is better to choose a name that is related to your niche. Choose a unique name. It would bring your channel first on searching channel name. Your name should be easy to remember. The name must define what your channel is about in a word. Hope you got an idea of choosing a good name for your YouTube Channel.
Creating good Content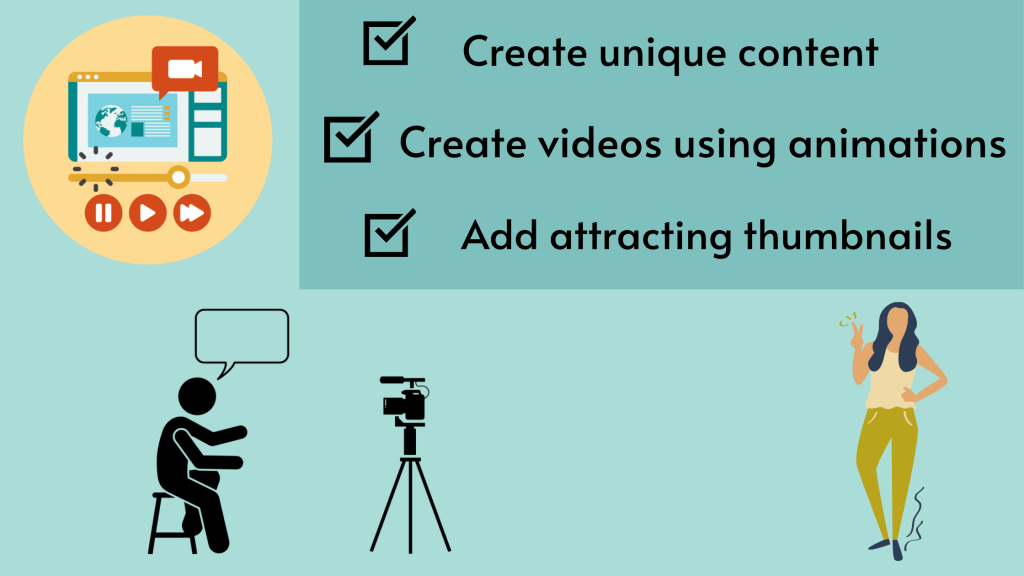 You should have unique and amazing content on your videos. Your video must clear all question about a topic. Creating amazing content is very important. If content is amazing you will get thousands of views and you can earn from it. Create videos that are relevant. Your content should provide a new information to the viewers and should be interesting. Create videos using animations and bring your creativity in it. Add attracting thumbnails to your videos because it would make user click on your video. For editing thumbnail you can use any editor like Canva, PicsArt, etc. If you need ideas for creating videos click here. This link will go to a website and there is a search bar in it. Enter a topic and it will generate some content ideas on that topic.
Earn Money
Hey, Its time to earn from your YouTube channel. If your content stands out and you have enough subscribers you can earn money from you YouTube Channel. You can apply for Google AdSense if you have crossed thousand subscribers. You will get money by placing advertisements on your videos. There are many other ways to earn money through a YouTube channel. So let's see those in detail.
1) Google AdSense

Google AdSense is a simple way of earning money online by placing ads on your videos. You will unlock Adsense only if you have crossed 1000 subscribers. If you get approved by Google, you can earn money from your YouTube channel. Google will place ads in your videos and you will get paid for every single view of your videos. On average, you will get $18 per 1000 ad views and that's awesome. So Google AdSense is a simple and awesome way of earning money from your YouTube channel. There are a lot more ways of earning money from YouTube channel. So let's see more..
2) Affiliate Marketing

Affiliate marketing is also a best way of earning money from your YouTube channel. Here, you will earn money by featuring someone's product on your videos and if a person buy that product, you will get commission. There are many affliate marketing websites out there. You can sign up there and take product and talk about it in your videos. Dont forget to give link for buying that product in the description. For example If your are signing up for amazon affliate, you should search the product that you want to feature in your videos and get link from there and give it in description box. If the user click your link and buy that product you will get commission, that's it.
There are many other ways to earn money from YouTube. You can create your own products and introduce it to your audience. If it is useful they will buy it. If you have large audience you could make sponsored videos also. So i hope this article was helpful to you.
And if you haven't started YouTube channel yet, create one and start publishing contents. Try to start channel on a topic that you are expertized or intrested in. Because i have seen many of them starts channel upload one or two videos and quit.
If you start channel on a topic you like, you will be more interested in uploading videos about it. By this way you can earn from your passion. For the growth of your channel you have to upload amazing content constantly. So what are you waiting for ? Create a YouTube channel and start uploading videos !
Also read: