Google Adsense is the highest paying ad company. Everybody is running behind it. It has been a bad dream for many people because they get rejected by Adsense again and again and sometimes they get banned. Many people get approval from Adsense many don't.
You are having enough traffic and content still rejecting. Why is it happening ?
Getting approval from Adsense is not a big deal. Some people thinks its very hard.
From now you wont be having any problem to get approval by Adsense. In this article i will show you how to get approval from Adsense easily.
After doing these if you dont get approval then it a problem with your content or website. Anyway these tips which i am going to share with you is must in your website to get approval.
Proven tips to get Adsense approval
Before we get started let me give a short description about Adsense.
Google Adsense is a Ad service provided by Google. It is a highly paying ad program so every one wants its approval.
1. Have at least 5-10 articles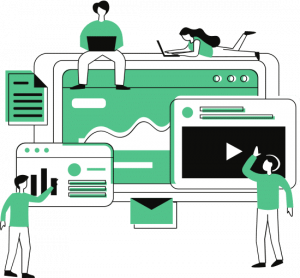 For getting Adsense approval you must have atleast 5 – 10 articles on your website. Majority of people just strat a new website and quickly apply for Adsense. Don't do that. Your  website must have enough articles. When you apply If the person reviewing your website see only 1 or 2 articles you will be rejected. So wait and publish at least 10 article. Having more articles increases your chances of getting approved. I would recommend 4 pages, each page containing 6 articles. So the total number is 24.
2. Quality content
As always you should have quality content. Content which is highly useful for readers. You cant post rubbish things and apply for Adsense. The content should be valid and should not violate policies of Adsense. Policies of Adsense, what is it ? I will share some basic things. You can check out more on this website.
illegal content

Do not promote illegal activities in your content. Content should not violate on legal rights of others.
Intellectual Property
You can't use others images or property(logos) on your blog post. If you get copyright, you will be banned from Adsense. But you can embed others images and videos giving link to their website or YouTube. You can do so if you have permission.
Malicious software
You cant promote or use malicious software that collect user data, passwords etc.. on your website.
The above mentioned are some things you should note. There are more of these and you can checkout if you want.
3. Traffic Requirements
You can't apply for Adsense without enough traffic. If you apply, you will get rejected. Google adword is used to create online ads to reach audience that are interested in the products and services you offer. Adsense shows ads of companies joined in adwords. Why they joined ad word ? For generating sales and publicity for thier product. So if website applied for Adsense has no traffic, then why should they approve it ? Website traffic is very important. You should have atleast 1k to 3k traffic per month on your website. The more traffic you have the more chances of getting approval from Adsense.
Try Avoiding,
Bot traffic. Google hates bot traffic. I know a guy who got banned by Adsense because of bot traffic. Don't know the real reason. But he had a lot of bot entering his website and spamming in comments. And that make sense because there is no use for Adsense if bots are seeing the ads displayed.
How you can avoid it ?
There pretty much nothing you can do about it. If a URL is there on the web bots will enter. Only thing you can do is not spamming your URL. Don't submit your website in non popular or spammy directories which will add your URL to other spammy websites. And thereby you will invite more bots to your site.
Bot traffic is a problem when you are already approved by Adsense. If they find unusual traffic, they will ban the account.
4. Create about us, privacy policy and contact us pages.
Creating these pages are very important. These are the things Google looks for, while reviewing your website for Adsense approval. It also shows that you are authoritative. In your about us page you can tell people what your website is about, what content you will be providing and future plans of releasing product etc… You can tell about yourself in that page. If you have writers, then you can write about them also.
Contact us page is for people to contact you. There you can write a sentence like "Feel free to contact us" and add an email contact form. If you are interested in creating a telegram group or something for your website, you can add it on your contact us page.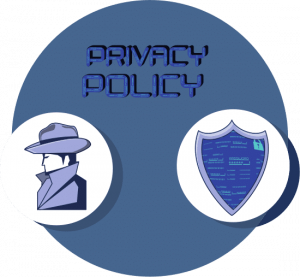 Privacy policy page is very important. You should have a privacy policy page on your website. This page should explain how you collect the data from user, about cookies, how you use them etc… Example for user data collection is email newsletter. If you are having it on your website, you can say about how you use the emails, are you sharing these emails with someone, etc..
Don't know to write a privacy policy page ? No problem, wordpress will generate one for you. WordPress has this feature of generating privacy policy page. The page generated had all information about collecting emails, comments, cookies, etc.. You just have to publish it. Most people use this page.
Here is how to generate privacy policy page in WordPress.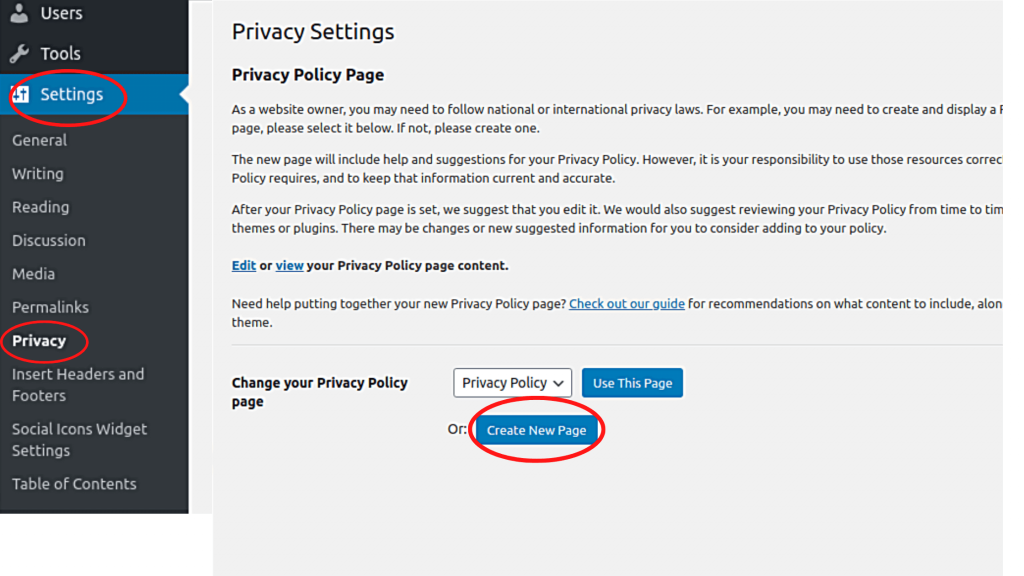 In you wordpress dashboard, go to Settings and click on privacy. Then you can see this page above. Click on "Create New Page". Now you can go to "Pages" and you can see a privacy policy page created.
5. Low quality content
Your content should be original and valuable to users. Basically your content is low quality when it has factual errors and poorly explained topics that do not satisfy the reader. Low quality content is something you should remove from your website right now ! You can make improve your content quality by adding relevant images, videos, info graphs, data, stats etc..
Updating your old content with more information is a best practice. Add all latest info about the topic.
6. Replicated content
Duplicate content is content that is found on multiple locations on the web. So search engines wont know which one to rank. You wont get approved by Adsense if you have replicated content. You can use a tool to find if your content is on other web pages. Use the plagiarism checker tool in this link to find it. Copy and paste the content in the text input space in the tool. It will show you web pages which have exact sentences and content.
You can add a canonical tag with the link of your original content for google to understand which content is original. Google consider URL in canonical tag as the real version of that page.
7. Create proper Navigation
Many people get rejected by Adsense for the reason "Navigation error".
You should have a navigation which is simple and properly aligned. Google Adsense reject websites with awful navigation with no pages arranged properly even if they have quality content and traffic. It should be easy for a reader to navigate through your website. Add links to main pages or posts in the home page.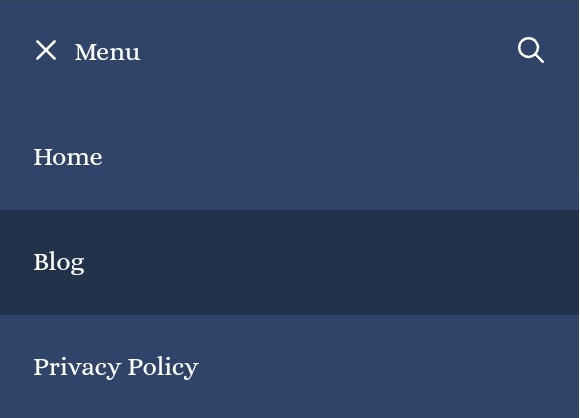 Example for proper navigation
Keep your navigation simple and clean and easy to locate.
8. Website age requirements
For Adsense approval your website must be at least 3 to 5 months old. It should have enough traffic and content. Everyone is in hurry. They don't wait for being eligible for Adsense. Website age is important because they cant approve a new website with nothing and no traffic. First you must focus on providing great content and building your website. Do SEO to make your website more visible on google.
Wait for the right time !
First provide value to people. Then figure think out a way to make money from it.
You must set up your website clean and should provide good content. Focus on Google rankings not in ads. If you rank for enough keywords you will have enough traffic and making money from website wont be a difficult. So the main part is content and traffic.
Points to be remembered while applying to Adsense
In this video Aindreas gave three recommendations to get your site approved. Those are things you should remember while applying.
This info graph from Google Adsense blog will give you more information about things you should do before applying AdSense and after getting approved.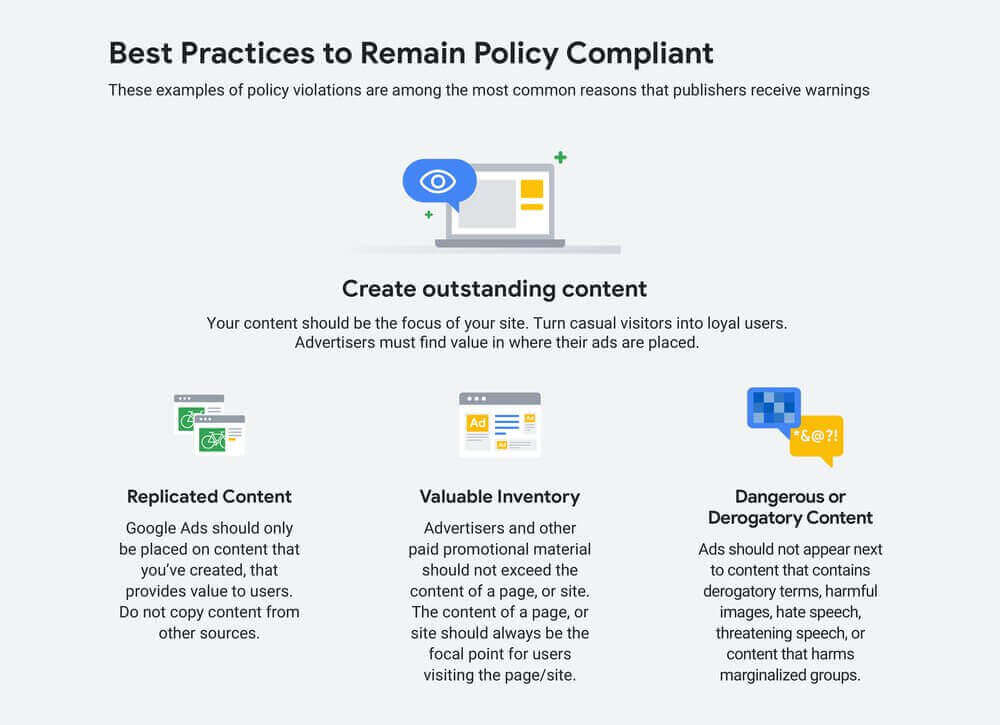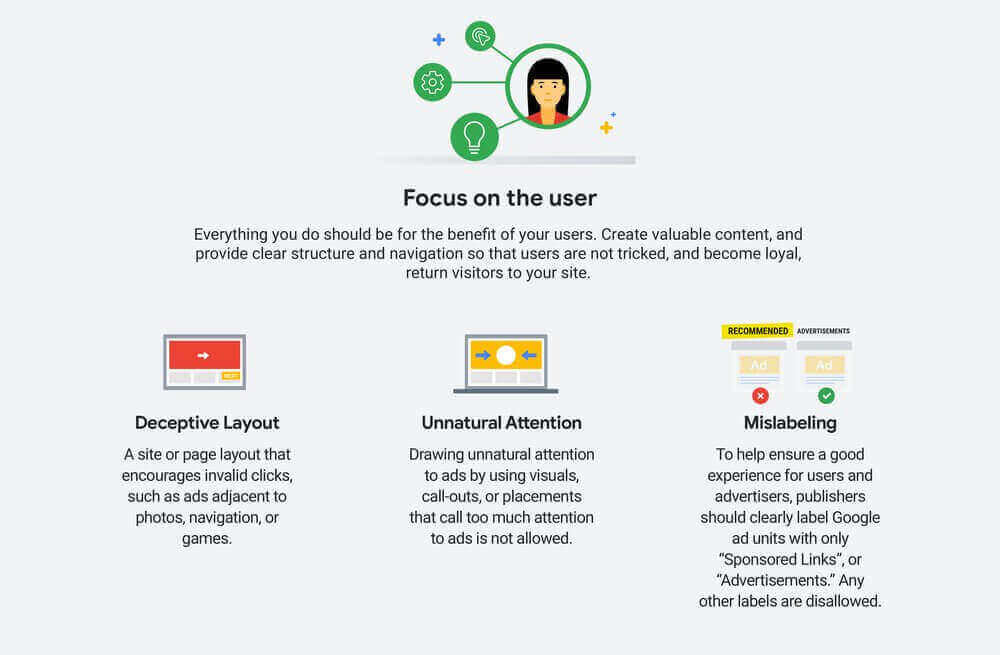 Conclusion
For Adsense approval the one important thing you have to do is waiting. Set up your website completely and have enough articles and traffic.
Work hard and provide more quality content, then you will definitely get Adsense approval. Follow these tips to get Adsense approval easily. These are the things which Google search in your website while applying for Adsense. Hope this article helped you. Implement these on your website right now !
And if you are bored of AdSense, there are a lot more ways to monetize your website other than AdSense. Check out the link.
Have any queries on this topic ? Feel feee to ask in the comments.