Blogging is getting popular day by day. Thousands of blogs are created every day only in WordPress platform. Many people are making a living through blogging. It is the best way to earn money from home also a great online business.
So you are thinking of starting a blog. Hmm.
That's a good decision !.
Want to know how to start a blog right now in 2023 ?
You are at the right place. This article is a complete beginners guide about starting a blog. Contains information about all things you need to know and mainly how to start a blog – Step by Step. So this article is gonna be very long.
Before we get into starting a blog you should have a good understanding about blogging like how it is and what you have to do to monetize it.
Let me give you a quick introduction about blogging.
Blogging is the act publishing content or information on the internet. Every Link that appear in Search results are blog/website that answer the query you searched. That's what you have to do with your blog. You have to publish content about a topic and work on ranking them on Google search results.
If your articles appear on Google search results, you will get visitors to your website. With a decent amount of people reading your blog, you can monetize it with Ads or Affiliate links. Ad services like Google AdSense will display Ads on your website and you will get paid for every time a person see that ad banner. This is a short description about blogging. Now you might think it is easy but there is a lot of work to do. It is very hard to bring traffic to your website from google or other sources.
According to latest data, 7.5 million blog post are published each day. There would blog post on most topics . Hence fro writing a stand out content and ranking it on google is hard and need time and work.
Now you got an idea of what is blogging. Now lets get to the main point that is how to start a blog in 2022.
Benefits of starting a blog
Earn money online – Creating a website and writing content is an incredible way to make money. You can earn money siting home with your laptop or while travelling. There are a lot of people who make a living out of blogging. You can also do this by running ads and doing Affiliate marketing.
Passive income – Blogging is a passive income source. You have to do the work only once and you will earn money from it for few years. It doesn't mean you don't have to do anything. Getting traffic and maintaining search ranking is only possible if you keep posting useful content. Once you post a blog post, you can earn money from Ads or affiliate links in that single blog post for 1 or 2 years (if the blog post rank higher in google and gets enough traffic).
Express Yourself – Another benefit of starting a blog is that you can express yourself. If you buy some product, you can write a review of it on your blog sharing your thoughts and how was your experience using that product. So you can express yourself on the Internet.
How to Start a blog ?
To start a blog all you need is a passion about some topic and a little money. Many bloggers fail at writing content because they don't have any interest or they start writing on a topic they are not interested.
This is not good for your blog success. Before we start a blog we need to decide which platform we will be using. There are blogs which are coded from scratch but as a newbie, we will use a platform.
Nowadays If someone want to start a blog, they don't need to have any technical knowledge. It is very simple.
We just need to be creative and rest backend stuffs will be dealt by tools. We will be using WordPress to start a blog.
Why use WordPress for starting a blog ?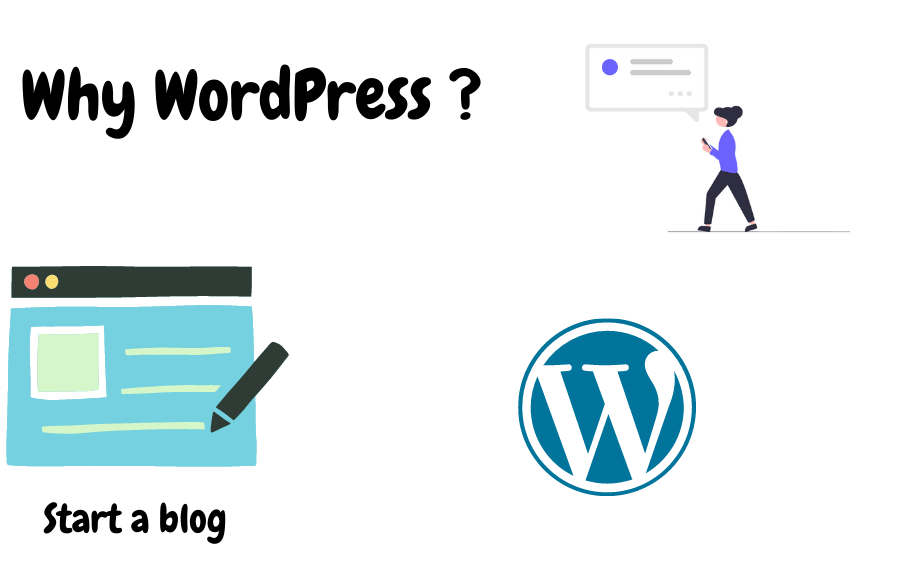 This is because of its popularity and ease of use. WordPress is the most widely used platform by bloggers. So we can trust the platform.
According to data, there are over 64 million website using WordPress and 661 WordPress website go live everyday.
There are other platform like Blogger, Wix, squarespace etc.. Bloggers allows you to create blog for free.
But the problem with blogger is that there is no freedom. You cant do anything with your blog. There are so many limitations.
Blogger is owned by google and long time ago they planned to shut it down but they didn't.
This is another problem with these platforms that we don't entirely own our blog.
The providers can do anything they want with you website. On the other hand WordPress website is completely owned by you and it is running on your own server. You have full control over you blog.
You will just be installing their software in your server. WordPress is opensource which means you can install it for free.
But the money paid is for the domain and server in which it is running. WordPress.org is the one we are going to use for starting our blog.
WordPress.com is owned by WordPress and we won't be having the benefits I talked about in this platform.
It might cost you a little money to get your website running but in the long run, you can make a lot more money than you invested.
Blogging is like any other business. It needs time, patience, passion, and investment to get results.
Choose a niche (topic) you are interested

Choosing a niche is an important part of your blog. The blog's success depends upon it. The niche you choose should have enough search volume. A less competitive niche would be easy to rank. Moreover, your interest in the topic is the crucial part.
Creating a blog that covers any random topic is not a good idea. There were blogs like that before.
But Google, these days don't rank these type of websites. A website should be focused on a niche (topic).
They rank pages that are authoritative and for gaining it, you must focus on a niche. For success, blogs on a specific niche are the ones to go.
Did you know? About 60% of beginner bloggers quit because they chose a niche that they are not passionate about.
The subject should be something you are passionate about, interested or learning. For example, if you are passionate about playing violin, you can start a blog on the topic by writing an article about how to play the violin. If you are interested in cooking, then a food blog would be great. You can share different recipes and all. The thing is you should know something about the topic to share with the readers or you are interested in learning more about that topic and you can blog about what you learned.

There are a lot of niches you can start a blog. Some niches have more potential to make money. If you like tech gadgets and smartphones etc.. you can write about it.
I have researched about how much money do bloggers make in some niches and wrote a full report about it. You can read it in the link.
Most beginners fail at blogging because they won't keep writing articles as they chose a niche in which they are not interested and only to make money.
The niche you choose should be broad enough to write articles about. Picking the right niche is the first crucial step to your blog's success. A profitable niche is a topic that has enough audience, products, and affiliate programs available.
In the beginning, everyone would have a confusion about what niche to choose.
All I can say in my experience is that It should be something that entertains you, something you wanna pursue, and something you love to do in your free time.
This has worked for me to keep going even if there are no results for my effort.
Look at these example websites to understand better.
Codes Easy – codeseasy is a website that teaches coding. The website is based on coding and about creating Android apps. The niche has a lot of audience as these days people want to study coding and get involved in technology. Also, the niche is profitable as you can monetize it with ads and paid sponsorships from other app companies. Affiliate marketing would also work as they can promote different software.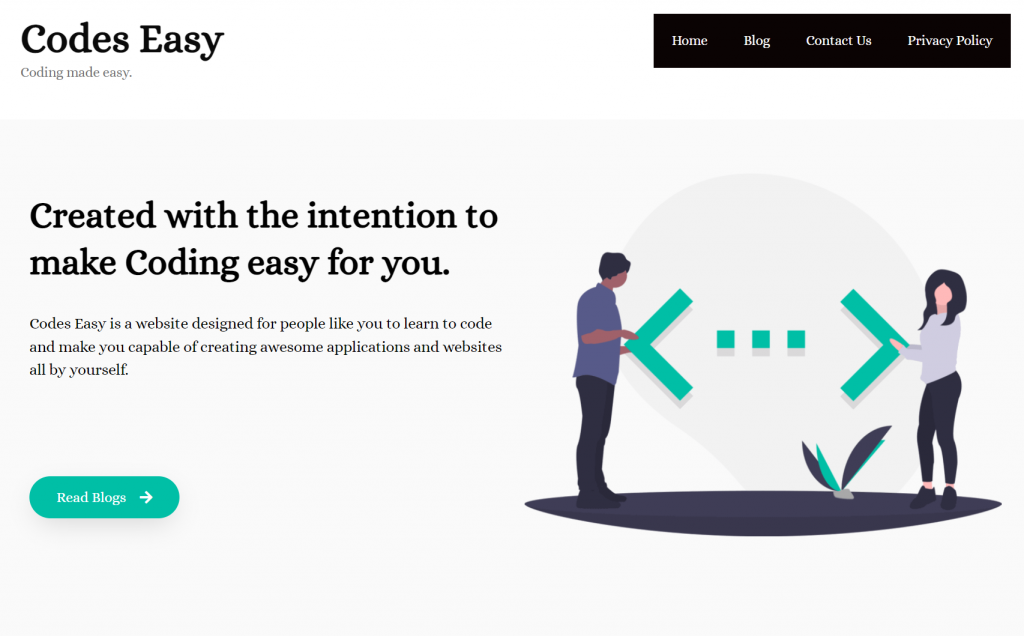 smartpassiveincome – The website is about starting an online business. Strategies and marketing tutorials for running a successful online business. This niche is also very profitable as it can sell courses and affiliate marketing.
Food52 – As the name suggests it is a blog about food, cooking, recipes, etc… They publish content about these topics and food is a popular topic as everyone searches for it and how to make it. Because of its popularity, it has a high potential of earning money. Ads, affiliates, and even cooking courses, etc.. would make a good amount.
Tech Crunch – Techcrunch is a tech website that publishes content about tech news and reviews of the latest gadgets. Today Tech Crunch is one of the top tech websites in the world. It started out as a small website and now it is an American online newspaper with a lot of employees.
I hope you got an idea about choosing a niche. Let's move on.
Choose a name and domain.
To start a blog, the next thing is choosing a good domain name. A domain name is what comes after 'www.'. The name of the website itself should be its domain name. For example, my website name is bloggers core and the domain name is bloggerscore.com. There are a lot of domain extensions. You can use .com .in .edu .dev and many more. According to data from some websites, there are about 1,517 domain extensions out there to choose from. I recommend .com domains. Some domain names may be already taken so you will have to choose another. It must be unique. There are a lot of websites for purchasing domain names. I recommend purchasing your domain from Namecheap. They sell domain names at the most affordable prices.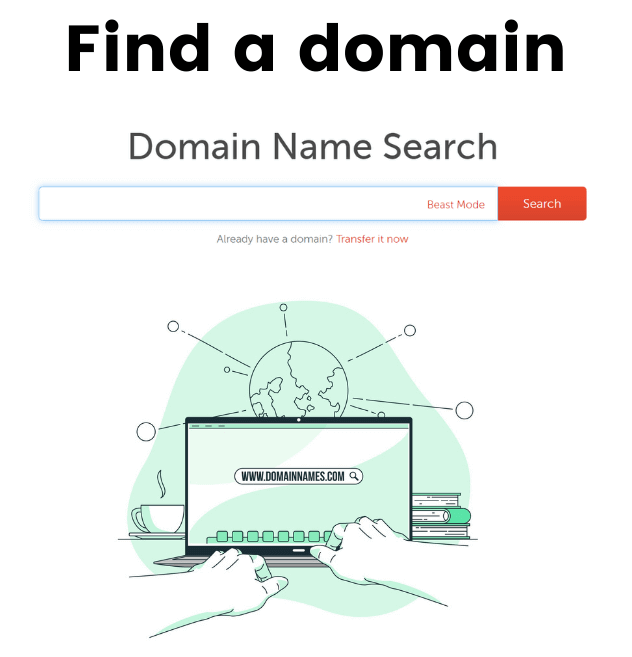 While choosing a domain name keep in mind that it should be relevant to what you are going write on that blog.
These days there are blogs that are created in the name of certain high-competition keywords so that they have more chance to rank on these terms because it is their website name itself.
For example, SEO is a high-competition keyword with lots of people searching for it. There is a website called seo.com which ranks on that highly competitive keyword. They rank because of that domain name.
I wouldn't suggest choosing a keyword as a domain because there is no guarantee it would rank. You can choose a brand name and domain which is easy to memorize.
If someone visits your website and sees the domain name, they should be able to memorize it later and visit the page again if they want. It should be unique eye-catching and memorable. It should be related to the niche.
A short name is better because it will be easy for people to remember the brand.
Analyze the Competition in the industry. While choosing a domain and niche check if there are other big websites on that name. You couldn't replace those websites so you have to come up with something new. Make your domain unique and insightful.
Another important thing is checking if the name is available on social media. Make sure that there are no social media accounts on that name so that it will be available for you.
How to buy a domain name?
Let's get started with how to buy a domain name. I will show you how you can purchase a domain name from Namecheap. As I said Namecheap is a website that sells domains at a low cost. So let's see how to do it.
Go to namecheap.com. Here you will see a search bar. Enter the name of the domain you want to purchase. I am going to purchase a domain in my name for my portfolio website.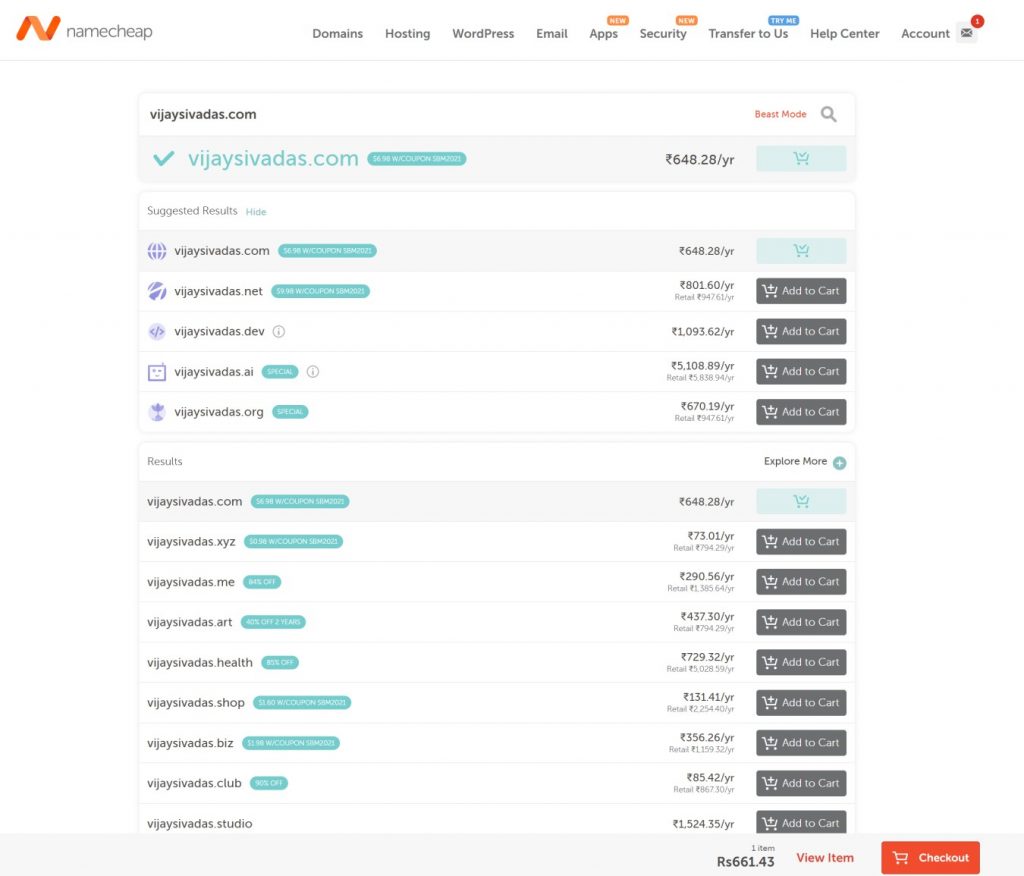 My domain name is vijaysivadas.com and as you can see in the image above it is available. It shows a green tick mark which means it is available and not taken by anyone. If yours is not available then try another. You can see the price of the domain beside it.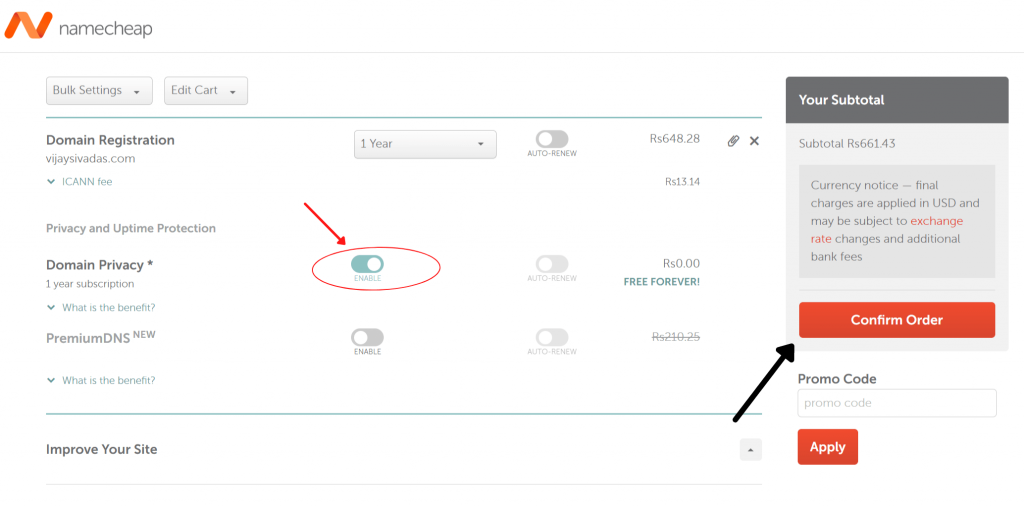 Make sure that domain privacy is enabled. Click on confirm order.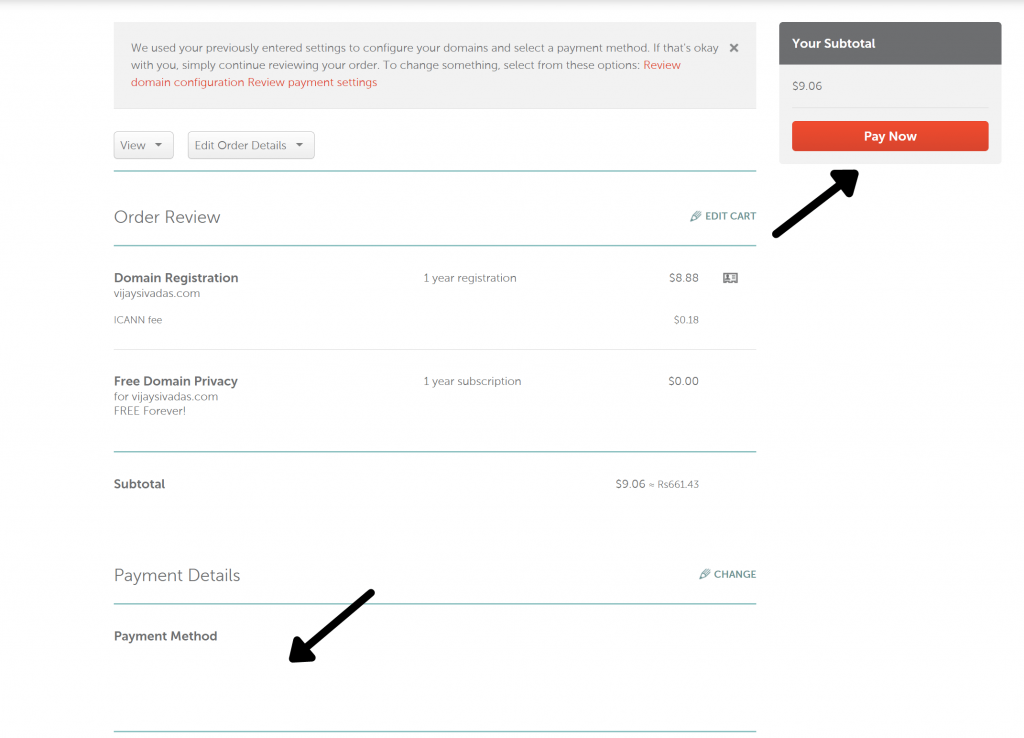 Now fill in the payment details. Click 'Pay now'.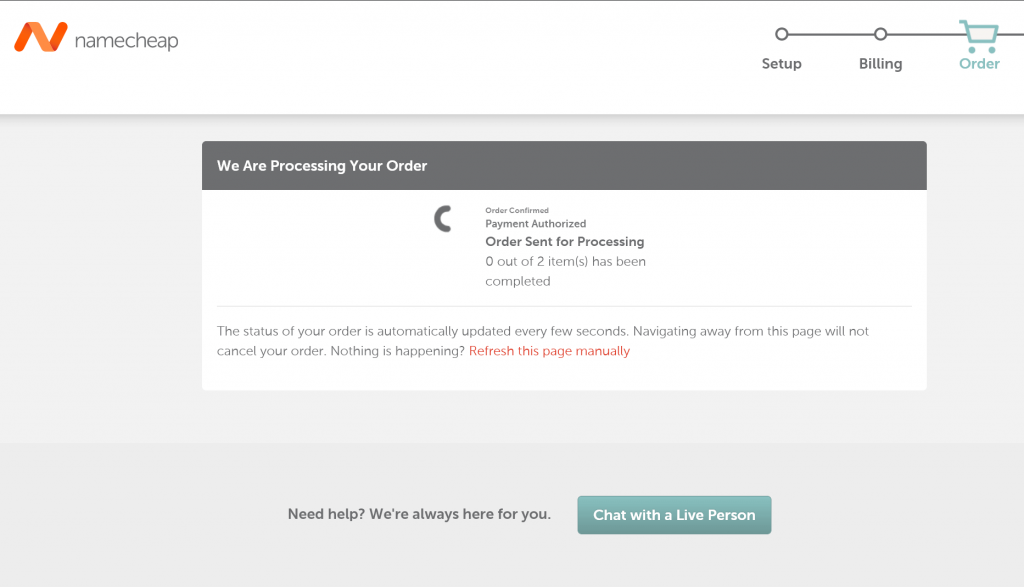 Your order is processed and after that, you will get the domain.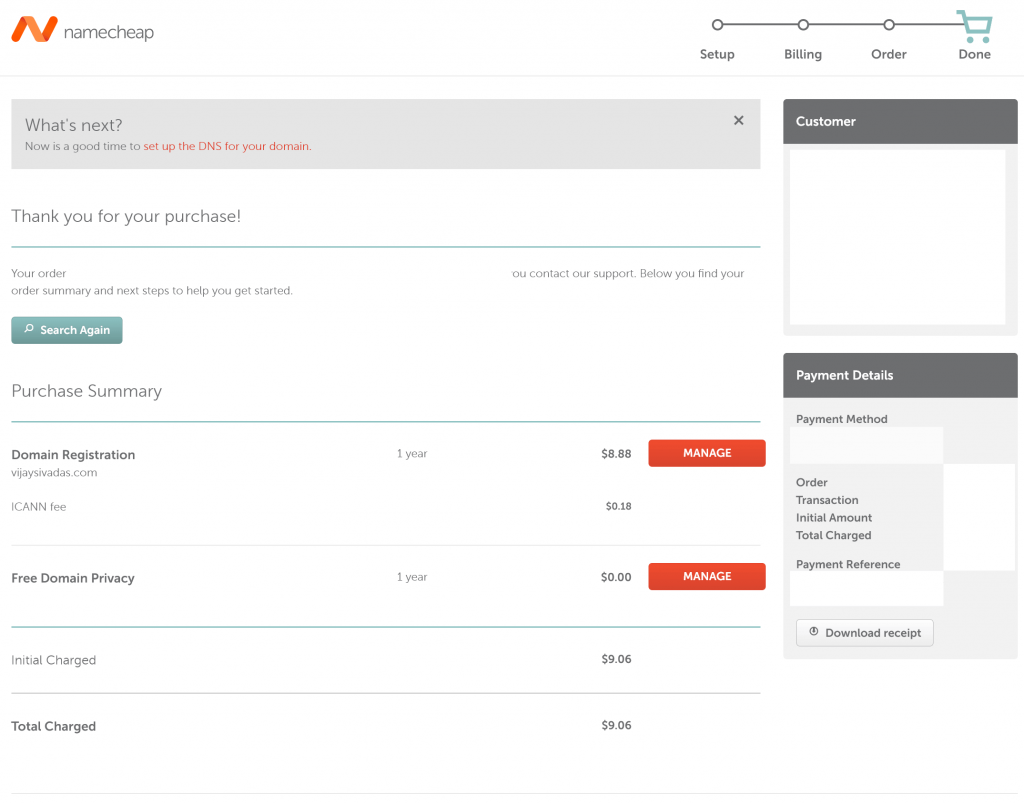 Congratulations! You have purchased your first domain.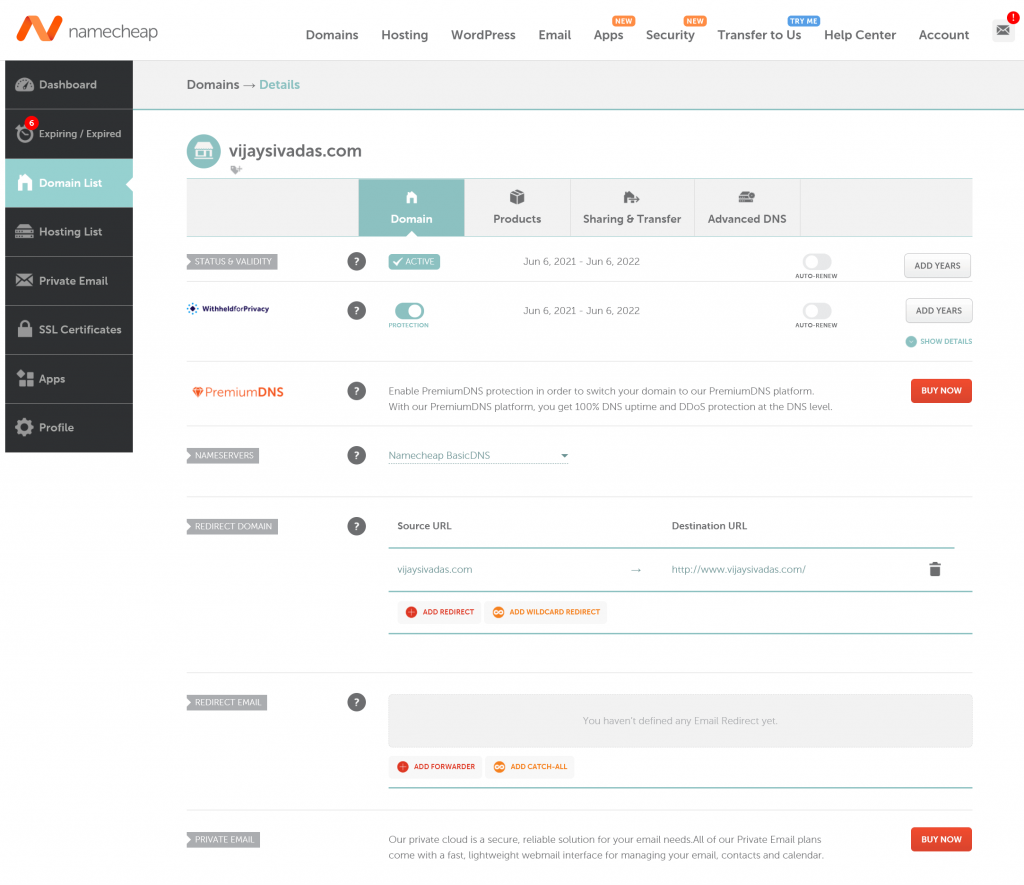 The image shown above is your Namecheap dashboard. Here you can see all details about your domain. If you want you can deactivate your domain here.
Now that you purchased your first domain, let's move on to the next part.
Buy a good web hosting hosting
Web hosting is the place where your website is stored. We need a server which is connected to the internet to access your website from all over the world. The website runs on the server and whenever someone enter your domain, a request is send to that server. It process and respond to the request by loading the web page. Whenever someone enter your domain their device connect to the server in which your website is hosted.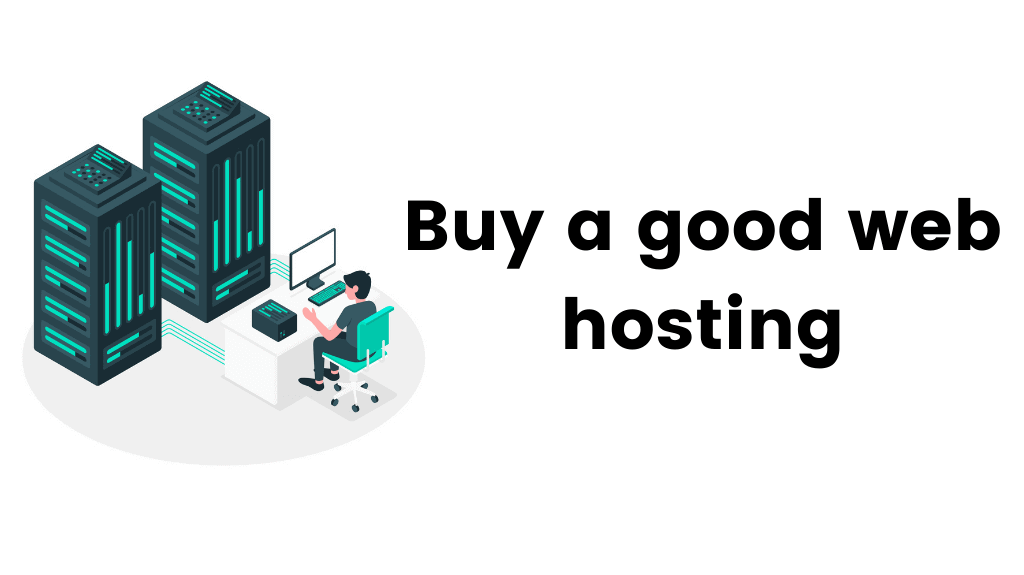 Every content, images, videos and everything you post in your website is stored in the server.
There are many web hosting companies that offer hosting for websites. You should choose a budget-friendly but fast-loading server so that it can load the website faster. Choose your hosting wisely because the servers should be able to handle all the visitors coming to your website. If the hosting is not good, when your website starts getting traffic it would be down as servers might be cheap and cannot handle the traffic.
I suggest purchasing hosting from digital ocean.
Why Digital Ocean?
It loads very fast and provides good customer service. My websites are hosted in the digital ocean. I personally trust the brand and in my experience, I didn't have any issues with servers. The price of the hosting is $5 per month. That's a bit costly as you would have to pay $60 a year.
But it is a dedicated hosting. There is shared hosting which is available at cheap prices. But in shared hosting many websites reside on one server. Websites of others are also stored on the same server as yours. They are low cost, but if one of the websites in that server gets a lot of traffic other it would affect other websites too. The server will be down for all.
In dedicated hosting, only your website is hosted on a server and as a result, it will be more fast. They can handle more traffic and the website won't be down. Compared to shared hosting, dedicated hosting is a bit costly.
But it provides value for money. The servers are very fast. I don't know about other hosting companies but in my experience, digital ocean is good at all these aspects.
They provide the best service for the money. So in this article, I will show you how to buy hosting in digital ocean.
How to host a website in the digital ocean?
Go to digitalocean.com. Create your account. You can either sign up with Google or create an account in digital ocean. I signed up with Google. Then you need to verify. They will ask to add credit card details or pre-pay $5 through PayPal. This is to verify that you are not a bot.
If you click this link refer.codeseasy.com/digitalocean and visit the digital ocean website and create your account, then you will get a $200 free credit. This $200 can only be spent on the digital ocean itself. It won't be transferred to your bank account. It will be shown on your digital ocean dashboard only. You can buy their hosting and other services. It will expire after 2 months. So for two months, you can try out their hosting and other services for free. Then you can decide whether to continue with this hosting or not.
If you select the credit card method to verify only then you can claim the 200$ free credit.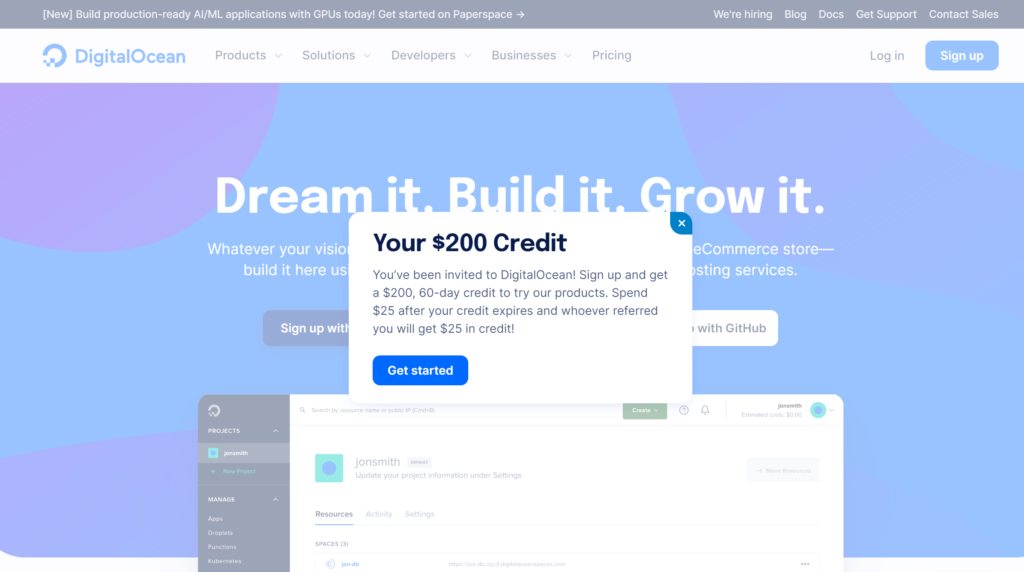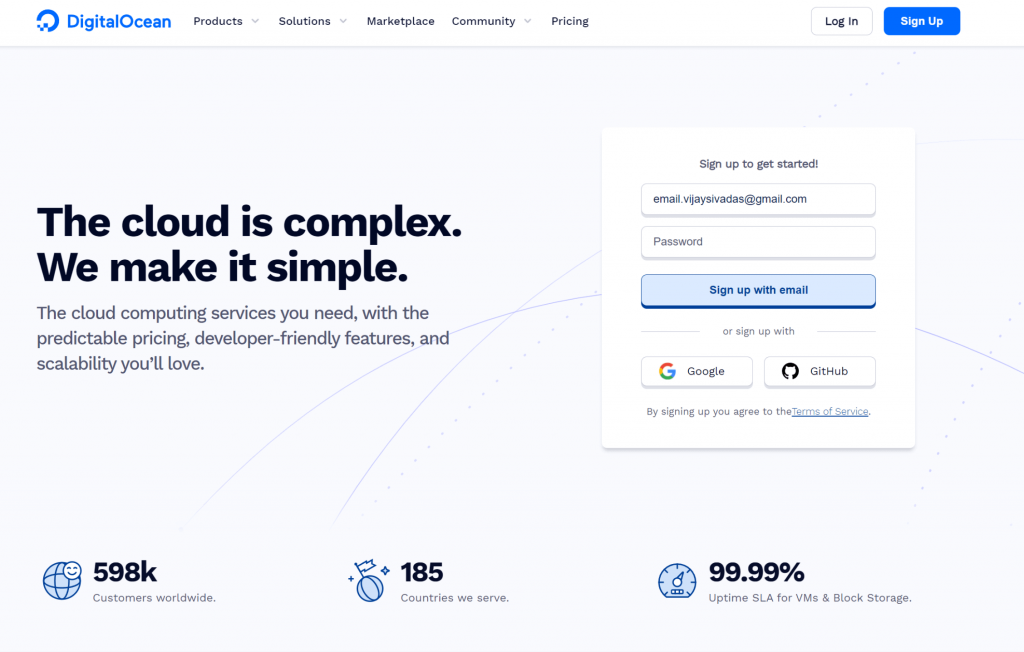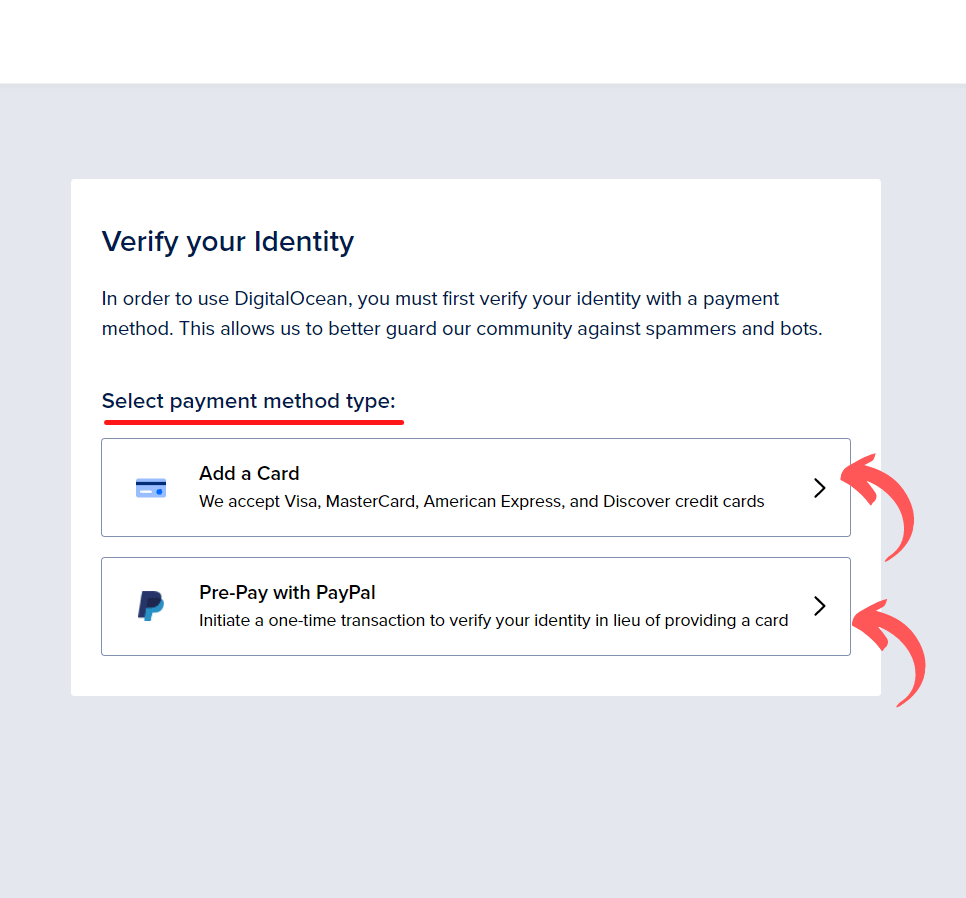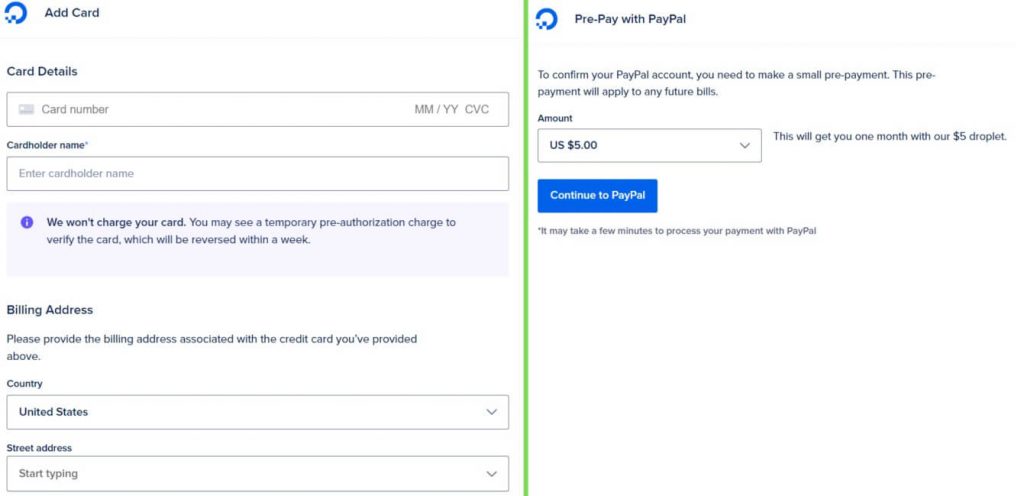 You can watch this video to know the exact details of how to buy hosting, create the website using WordPress, and host it on digital ocean.
This video contains step by step process of how exactly you can start a blog in wordpress.
Add a theme to your blog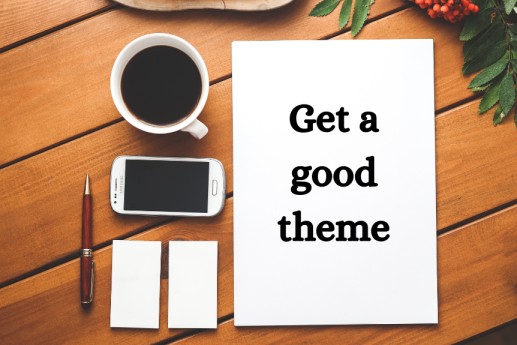 Find a good theme for your blog. When people visit your website, it should be good looking. The theme of your website should be user friendly and easy to navigate.
When choosing a theme keep in mind:
The theme should be light
It should load faster
It should not be a nulled version of premium templates
It should be good looking
Don't use nulled templates as it can damage your website. If the website loads fast, users will be happy. So make sure you choose a light theme. And obviously theme should be good looking.
There are a lot of themes available for WordPress. You can select from these according to your likes.
Just search "WordPress themes" in google. There are free themes and paid one. If you have money to invest in themes I would suggest to go for paid ones.
These are usually better in design and everything. Free themes are also available. Check out colorlib for some free WordPress themes.
WordPress have some default temples in themes section. If you like one of them you can choose it. Go to Appearance>Themes in your WordPress dashboard and you can as shown in the image below.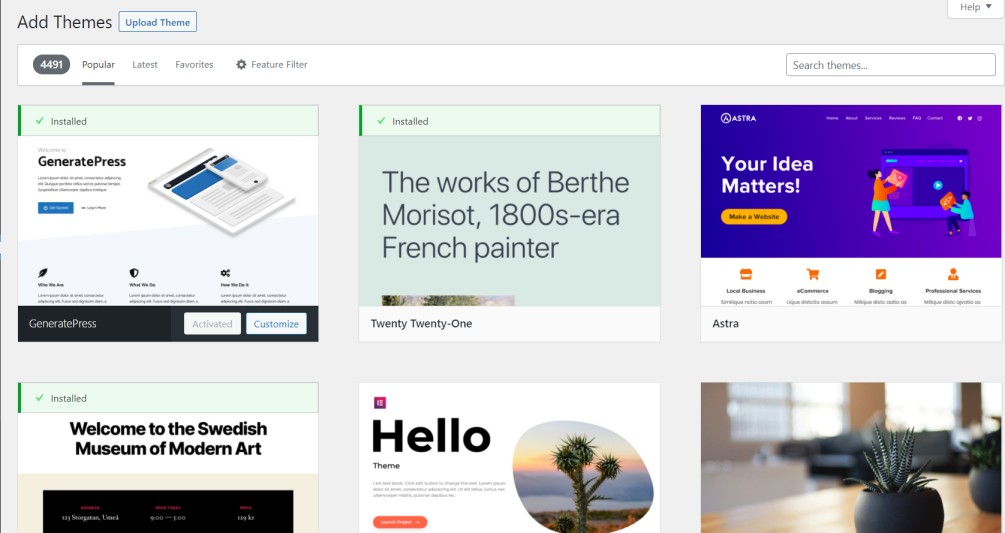 We use generate press theme. Generate press has free version and premium one.
I am using premium generate press. You can see generate press in default WordPress themes. That's the free one. In paid, you will get a package of themes. I suggest to use generate press theme as it is light theme and don't take much time to load.
Let's see how you can add a theme to your WordPress website.
How to add theme in WordPress ?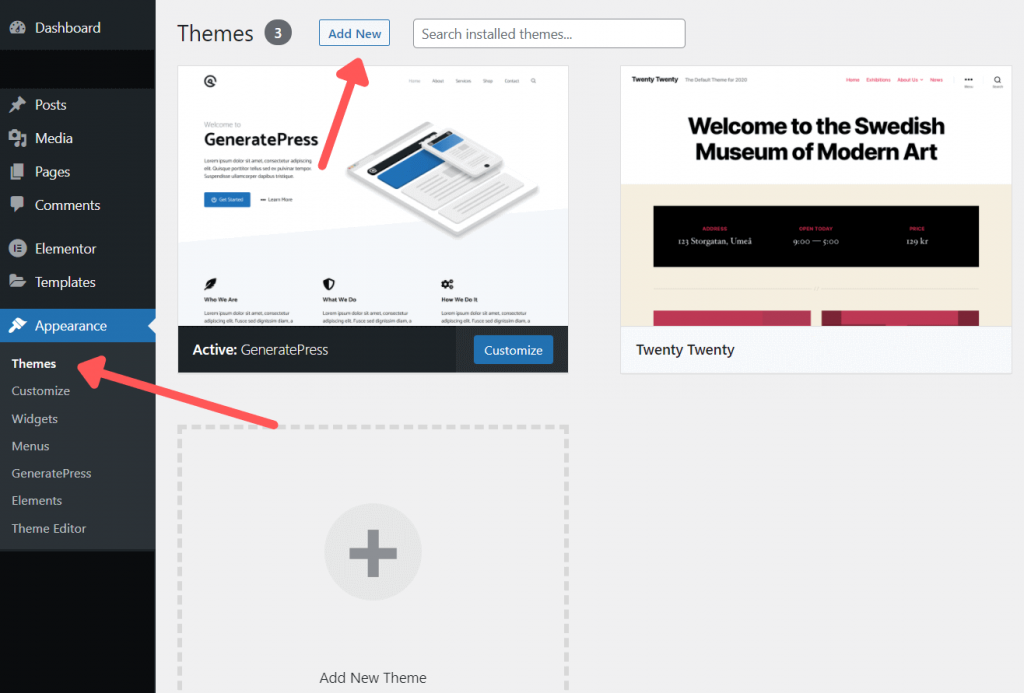 In your WordPress dashboard, click on Appearance. Under that you can see an option called "Themes". Click on it and you will see as shown in the image above. It would be empty as you just started the blog. In the image it shows some themes that I have installed. Here click on "Add new".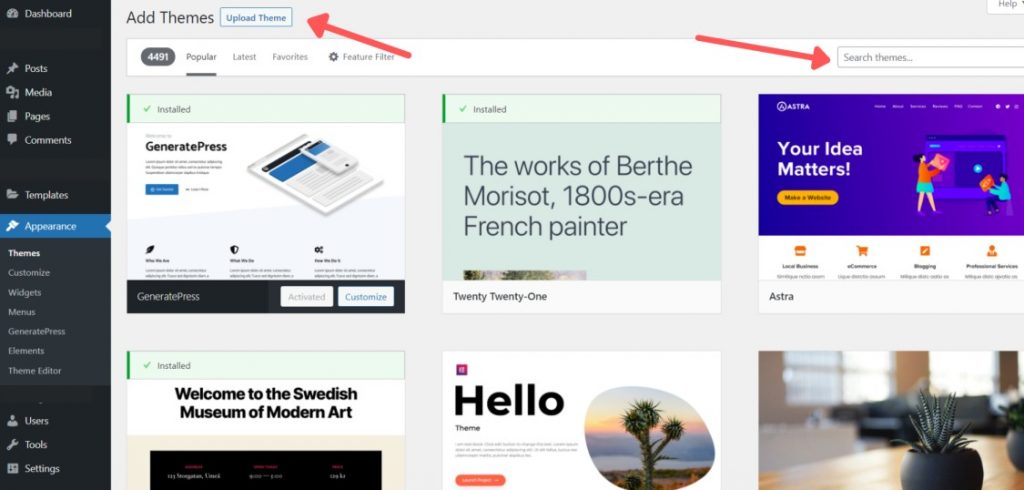 You can either scroll and choose any theme from the WordPress or you can download any theme from internet and upload it by clicking "Upload Theme".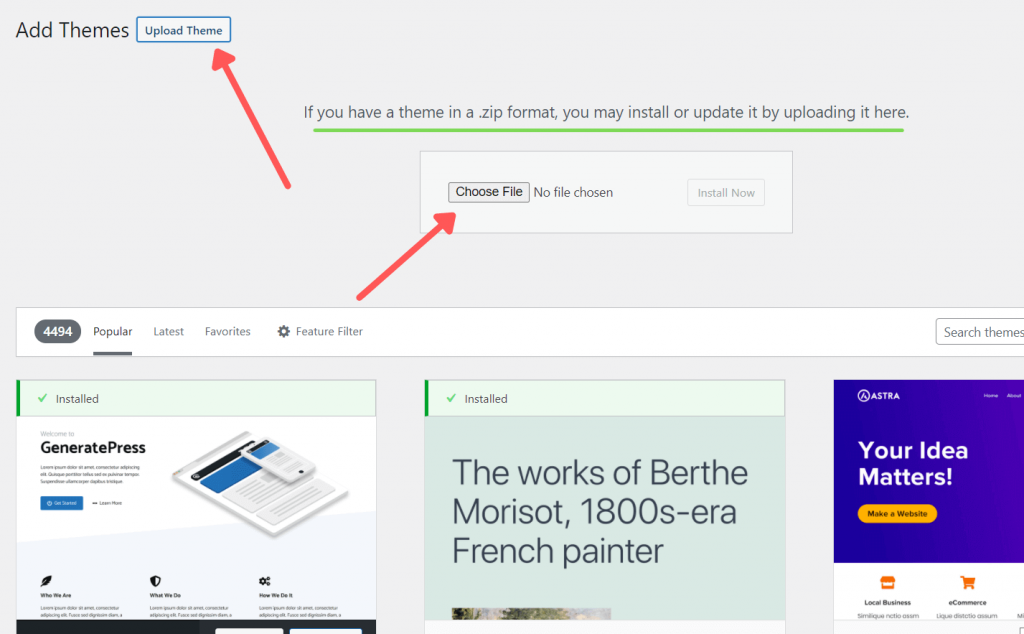 Click upload theme and you will see an option called choose file. Here you can upload the .zip file of the theme you downloaded. Then click on install now and you are all set. The theme will be add to your WordPress. The theme will as shown in the image above. Beside it there is a button call "activate theme". Now the theme will be applied to your blog. Your blog will appear like the theme you chose.
Set up some WordPress plugins
The most useful feature of WordPress is that it has plugins for almost everything. WordPress plugins allows you to design and structure your blog the way you want. It makes content writing a lot easier. There are plugins for additional security for your blog. Plugins that allow you to design and style your pages. Also there are plugins to make your site ecommerce website, plugins that help with SEO (search engine optimization) and many more. I will share some important plugins to set up on your blog in the beginning.
Loginizer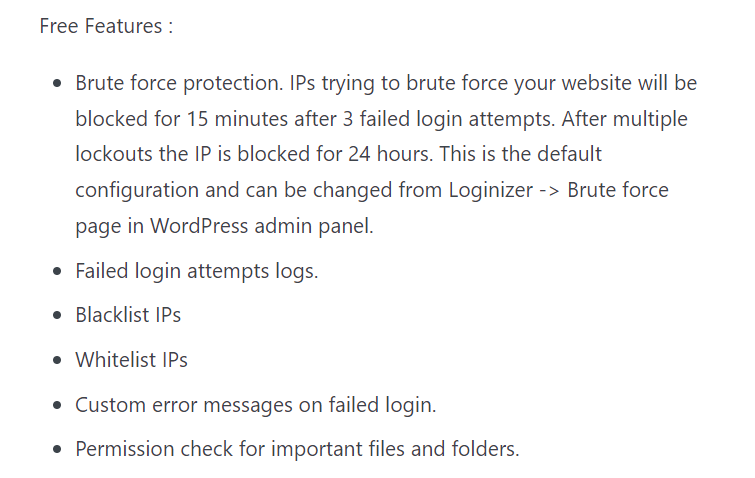 Loginizer is a WordPress security plugin that I have been using for a long time. As the name suggest it will secure the login to the blog. This plugin will block IP after maximum reentries, two factor authentication etc.. Basically this plugin will deals with all the security things for your. Protect form spammers and hackers etc..
Yoast SEO
Search engines will be the main source of your blog traffic. To rank on search engines SEO (Search Engine Optimization) is important. Search engine like google rank a web page based on some factors that will help them understand the relevancy of the content. They do this to give best experience for their user. If we google something, we get the right relevant answer to the query. So optimizing content for search engine is important. Yoast SEO WordPress plugin will help you to do SEO for your website. If you install this plugin they will list out on page SEO factors below every post you create so that you can look at it and optimize for it while writing.
Elementor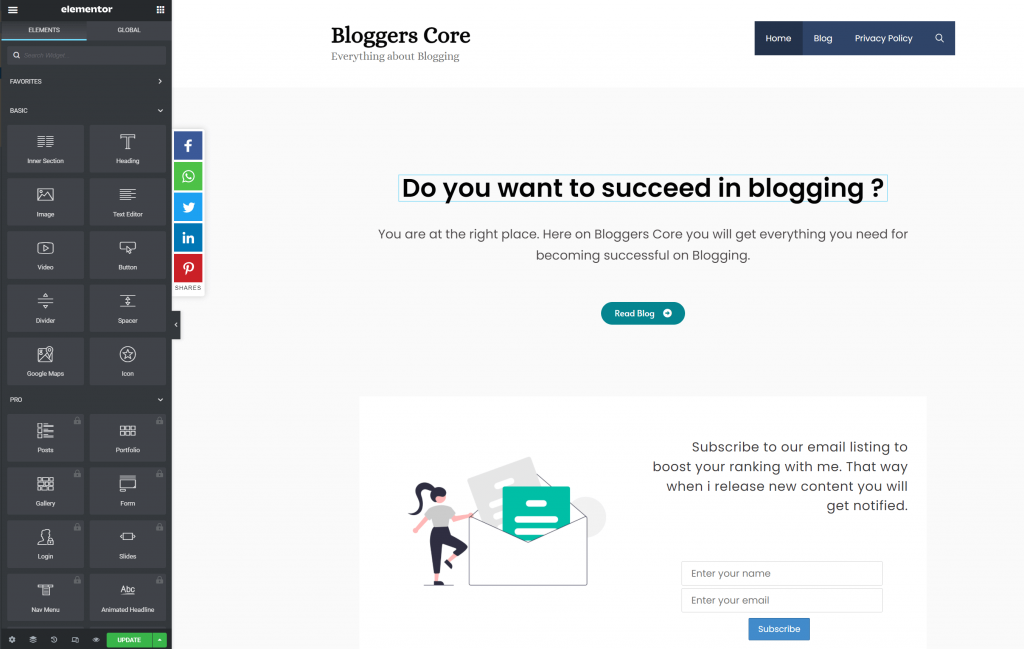 Elementor is used to build and design pages. It is a great tool. It allow you to design by just drag and drop. Anyone could design a web page with this plugin a you only need to drag and drop the items you need. I used this plugin to create my home page. A good and attractive design is essential as it will improve user experience and people will like reading your content.
Insert Headers and Footers
So now you have created a blog and you are publishing content. In many cases you might wanna add some extra code to your blog. WordPress has made blogging simple and easy for people who don't know to code. But if you want to add anything to your blog like google analytics, this plugin will be helpful. Tools like google analytics and search console will ask you to add a html code snippet to the head of the page. And you will have to use google analytics to track how many visitors visit your blog. Here you can use this plugin. You can just copy the code they gave and paste it in the plugins dashboard in the space provided. Using this plugin you can add extra code to any part of blog.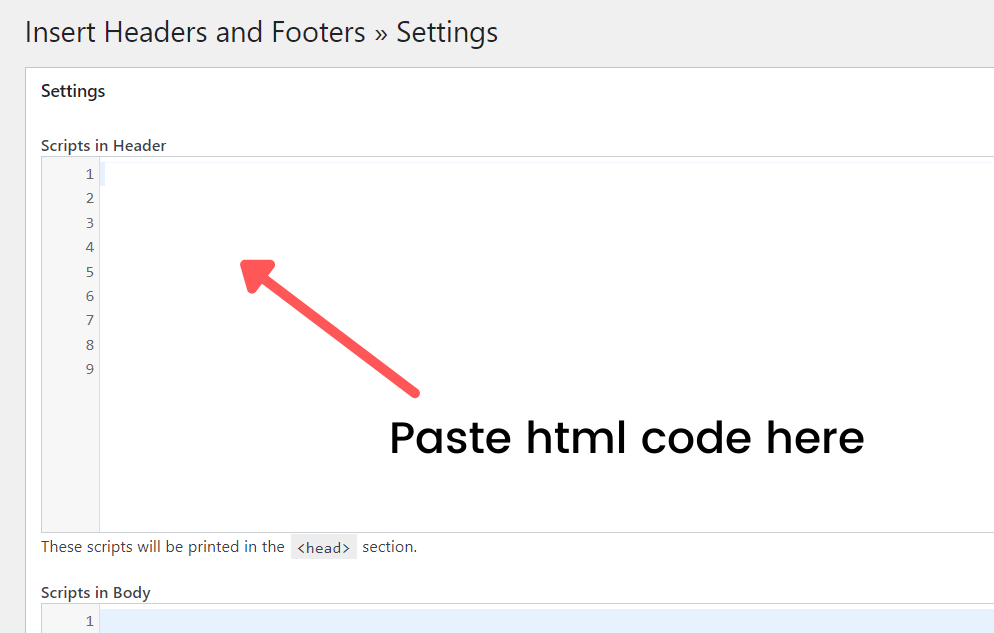 Site Kit by Google
Google site kit provide data on how much people come to your website. You should have a google analytics account and also a google search console account for using this plugin. What this plugin does is that show the data from Analytics and Search console right on your WordPress dashboard. Plugin also shows the countries from which your visitors are coming, search clicks, traffic form social medias, and many more. It is a useful plugin if you want to track your progress. Also it shows which page get more visits, search traffic and social traffic so that you can improve that content.
W3 Total Cache
A website should load smooth and fast. This is crucial because it affect user experience. People wouldn't wait if your content take so much time to load. W3 total cache is a plugin that I use for my all websites. This plugin will cache the entire web page and stores it in the user's device when once loaded. So if the same person visit second time, it wont take any time to load. Caching your whole site this is a way reduce the load time. Loading time hurt your website SEO. Caching website reduces load time when the user is loading it for second time. There more other way to make your WordPress website load faster. You can check out my blog post about it in this link.
Start writing your first article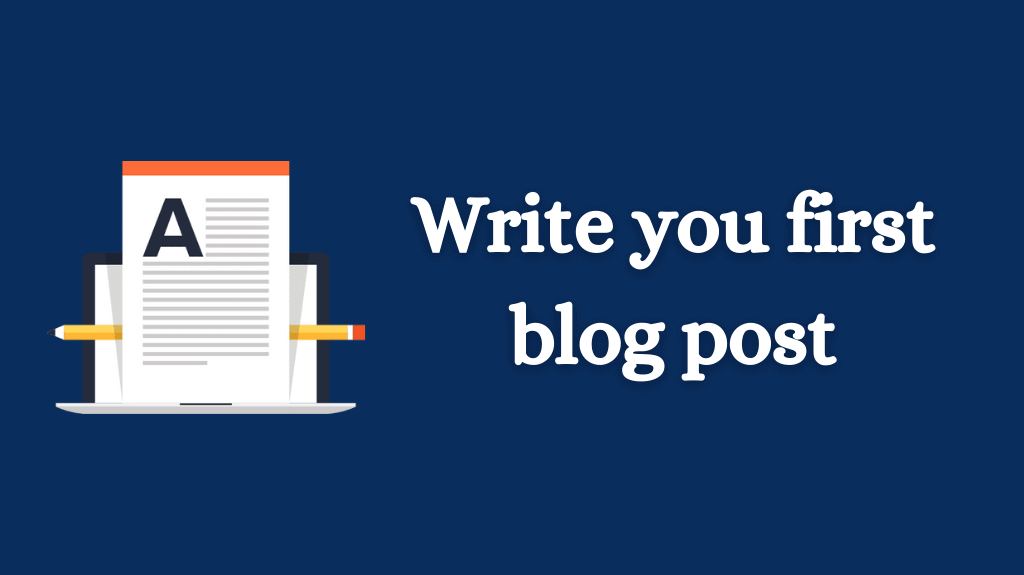 Now that you have created your blog, it's time to start writing content. Writing good article is important to bring traffic to your website and earning money. After you create a blog, you want it appear on google.
For this you need to write blog post on topics, optimize it for SEO, signing up for search console, Analytics, submitting site maps etc… If you want you can check out my article about making website appear in google in which I explain how to do these things step by step. You can follow those for your success.
To get traffic to your website, you should write articles. Your blog post pages are the one people going to visit to get information about something.
When people type something in google search, these blog post are the one's coming up with answering the queries.
When people click on a search result, he/she visit the blog and the webmaster makes money from it through various methods like ads etc..
That's how websites get most of their traffic and money. So you now you know what to do. Write articles answering various queries that people type in google about your niche.
You can check how many people type each query in google by using tools like Semrush. But it is not always accurate.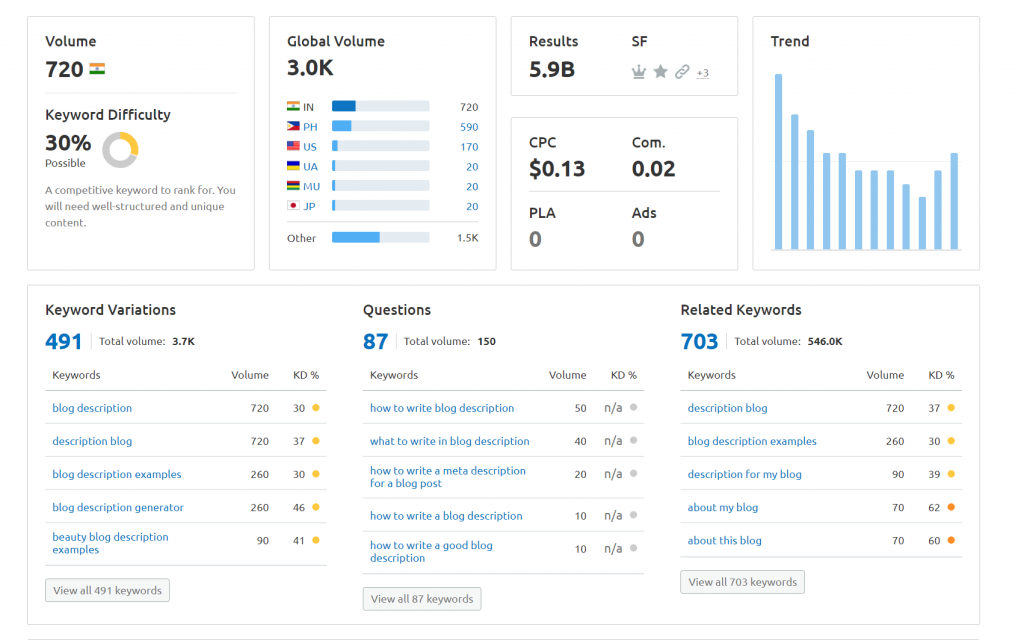 You can check if enough people search about a topic by using google. Type a topic in your niche into google.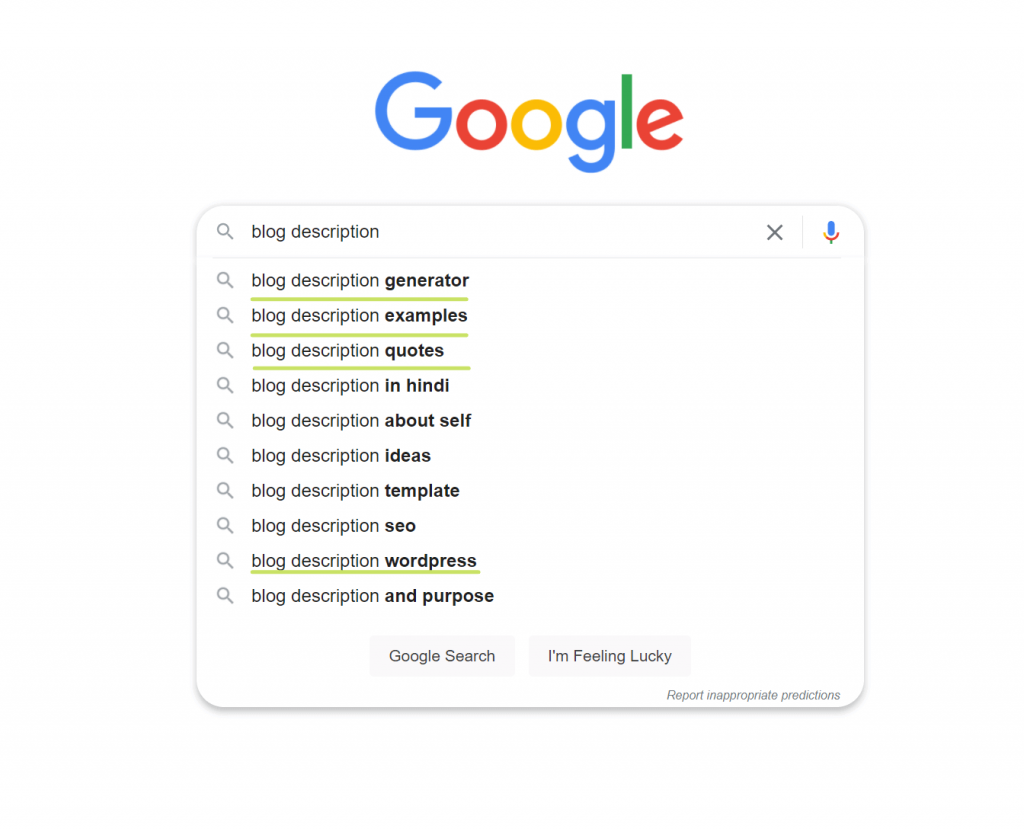 While typing you will see various suggestions about that topic. Those are things that other people search and most likely searched queries.
So you can write articles on those topics.
How to write blog post in WordPress ?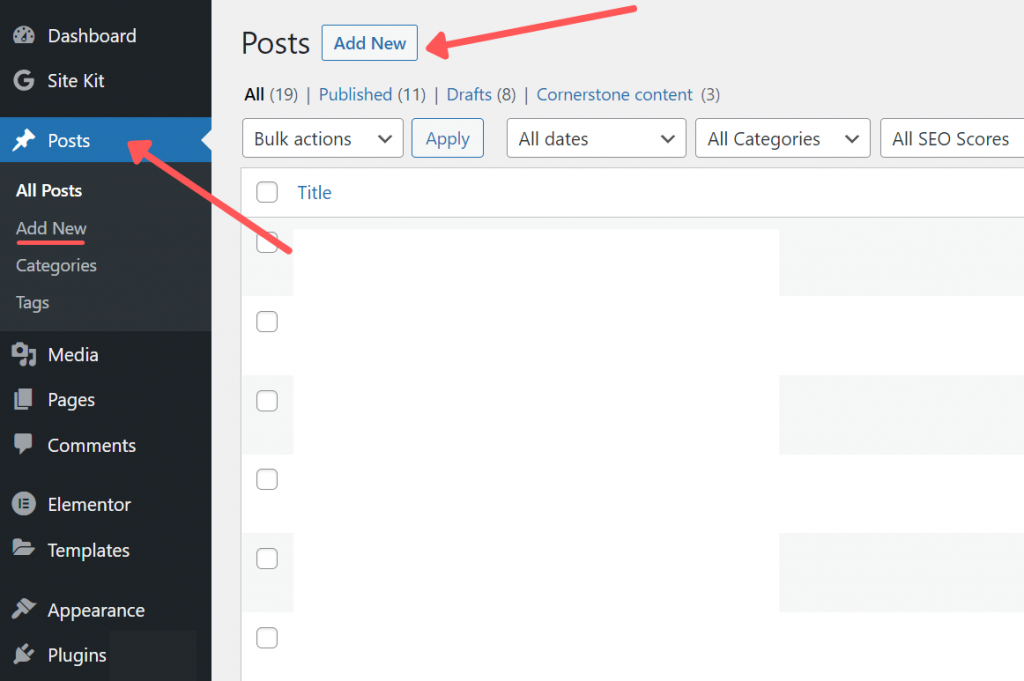 First login to your wordpress dashboard. Then click on posts. Now you will see a button named 'Add new'. Click on it and you can start writing.

First pick a tittle for your blog and write it in the place as shown in above image. For example if you are on tech niche and you want to write about a gaming laptops you can a title like 'best 10 gaming laptops' or 'best gaming laptops under Rs 50,000′ or '10 things to look for before buying a gaming laptop' etc…
Now you can start writing your article below that. WordPress is a block editor. You can crate a paragraph block, heading block, list block or anything you want. You can explore these your self.
Pick a topic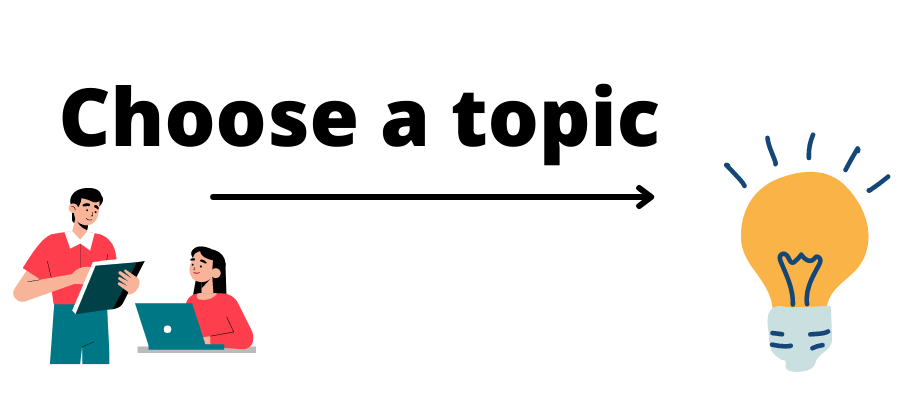 First thing to write a blog post is obviously picking a topic. You can pick any topic in your niche. For example, if you are on tech niche, you can write article about best smartphones for gamming. That's a topic !. Now while picking a topic, here are somethings you should keep in mind:
Topic should have enough people searching
Topic should no be too competitive
Topic should be relevant to you niche and readers
If enough people are not searching a topic, you wont get traffic even if you rank first on google. So while picking a topic, make sure it has enough people searching.
Don't pick topic that have high competition. High competition means there are already high authority websites ranking on these topics. These website can't be outranked as they are old and have domain authority, backlinks more than yours. So pick a topic that is not so competitive but have audience.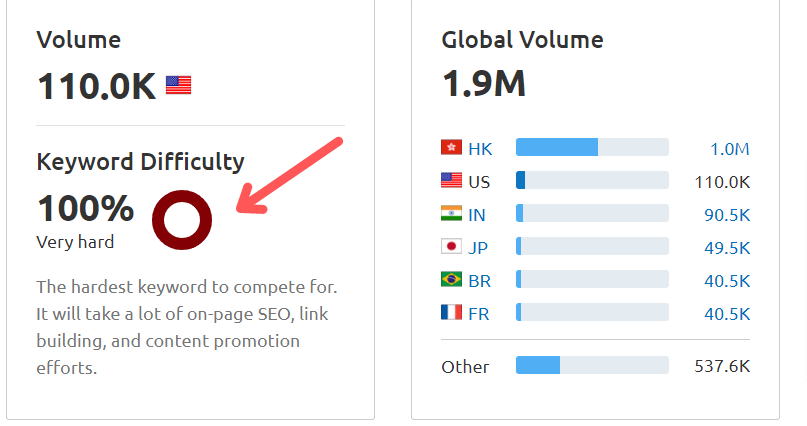 The next thing is relevancy to the niche. The topic must be relevant to the niche you choose. Suppose you chose tech niche. Now you cant write articles about how to loose weight or best diet to loose weight etc.. because it comes under the health niche. Stick on to a niche in your entire blog. Write articles about topics under the niche you chose.
Do SEO optimizations
SEO (search engine optimization) means to optimize a web page for search engines to rank higher on search results.
If you rank #1 on google for a query, you will get a lot of traffic to your website. People search for that query will see your web page link and click on that.
For getting higher positions in search engines, there are a number of things you should do. You should optimize title tags, images, backlinks, meta description, keyword and many more.
According to SEO experts, there are over 200 ranking factors in google. There are three types of SEO in general. On page SEO, Off page SEO and Technical SEO.
On page SEO – deals with all on page factors like title optimization, meta description, keyword optimization etc.. The optimization done for each specific page of a website is on page SEO.
Off page SEO – SEO done outside website to benefit for rankings in SERP. For example backlinks. Building links by sharing your blog post on social media help to rank higher in google. Backlinks are links from other web page to your webpage. Back in the day web pages were only ranked on the basis of backlinks. Now it's not like that but still an important factor.
Technical SEO – fixing technical errors of your website is technical SEO. Optimizing robot.txt, fixing errors shown in search console, sitemap submission, schema markup and many more comes under this. It is important as it can affect ranking badly.
You can check out my article for learning about SEO for your brand new website.
Write a deep content
Make your article in-depth and cover all points. Many SEO study's proved that deep content ranks better. In my case also, most lengthy articles are performing better. From studies I noticed that articles that are about some data or stats get more backlinks. This is because bloggers that write about a topic on these may want to show these data on their site and they will link the original data source.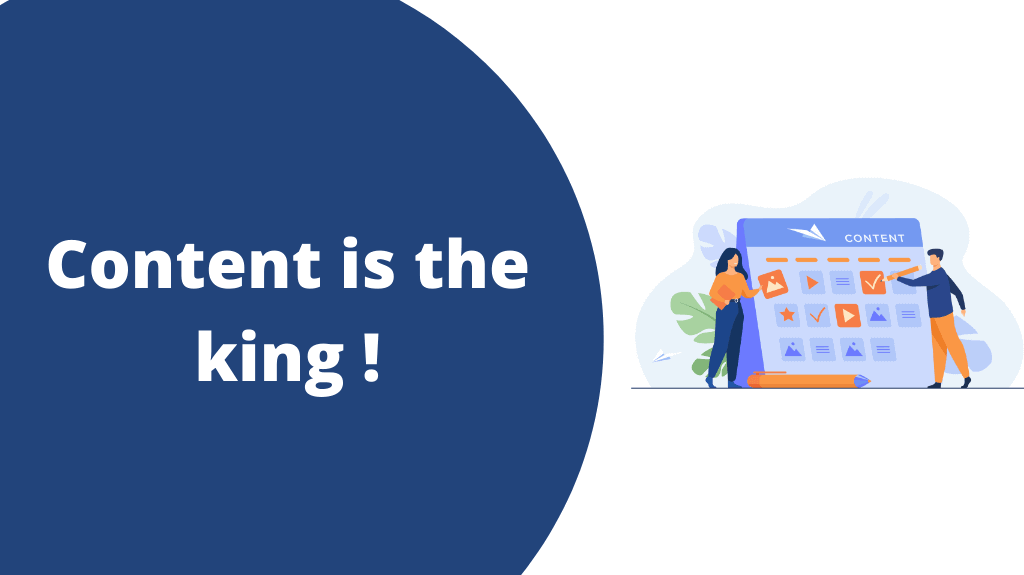 For writing lengthy articles, you should cover everything that comes under that topic. Your articles should be on the topic and explaining everything thoroughly.
Research more and gather all information about the topic and write it on your blog. For example, if it's a product review, then write all things both pros and cons of that specific product.
Structure your content by adding subheadings and fill these subheading with content. Prove your points by adding corresponding stats, images and data about the topic.
Do the styling
Next thing is the designing work. Style you articles with animations, images and info graphs. It would interesting to read an article with lots of images explaining everything than a bunch of text. These days visual content perform better. Add videos if possible. Image, info graphs, and animation make content easy to digest. If it's all a bunch of text, it wont different from a Wikipedia article.
These are some basic thing. There are lot more to do to get your website in google. You can check my article on how to write a perfect blog post in which I explain everything you need to do.
**Bonus Content**
This is about making money from your blog. Now that you have created your blog, you might be wondering how to make money form it. I am here to help you.
First you need enough traffic to monetize your blog. For a new blog it will be hard. Your blog must be shared on different social medias and should rank on search engines like google. Creating a YouTube channel on the same topic as your blog will give you instant results. You can read about how long does it take for a new website to get traffic it this link.
To make money from your blog you can use ads, affiliate marketing, freelancing, sponsored content, email marketing and a lot more. I have explained very deep about this in another article. You can read about how to make money from website traffic in this link.
Congratulations !!
Now you have successfully created your first blog. Good luck with your blogging journey and i hope you succeed in blogging. All you have to do is keep working even there no results. Think outside the box and post unique content. Don't stop learning.
Our social handles :
If you want us to setup a blog for you you can always mail me at [email protected] We provide web development, mobile app development and seo services.