You are a teen and looking for a way to earn money from online. Well i have been there. When i turned 15, me too was looking for ways to make money online. I have tried many ways to earn money online as a teenager and couldn't make any money at the beginning. In this article i will share my experience of making money online and show you some ways to make money online as a teenager.
Making money online isn't that easy like i imagined. Over the years i learned so much about making money online and tried many ways. At the beginning none of them works. You will have to keep going and don't give up. Improve your skills and find a way to solve whatever problem you face on the way. I am also a teen who is trying to make money online and dreaming of being rich.
First thing to know about making money online when you are teen is that it is not a quick rich scheme. It is like any other jobs. Only difference is that you can do it sitting at your home with a device.
So lets get started.
11 ways to make money online as a teenager
For making money online you should need a skill. It can be anything. Also you can learn any skill on online that you are passionate about and make money out of it. So find an interesting skill to learn so that you can make money online. So let's talk about ways through which you can make money online as a teenager.
Some of the ways which we are about too see need some investment to start of. As a teenager it might not be possible for you to have money to invest online. It need only less money and you can use your pocket money for this or ask elders some money.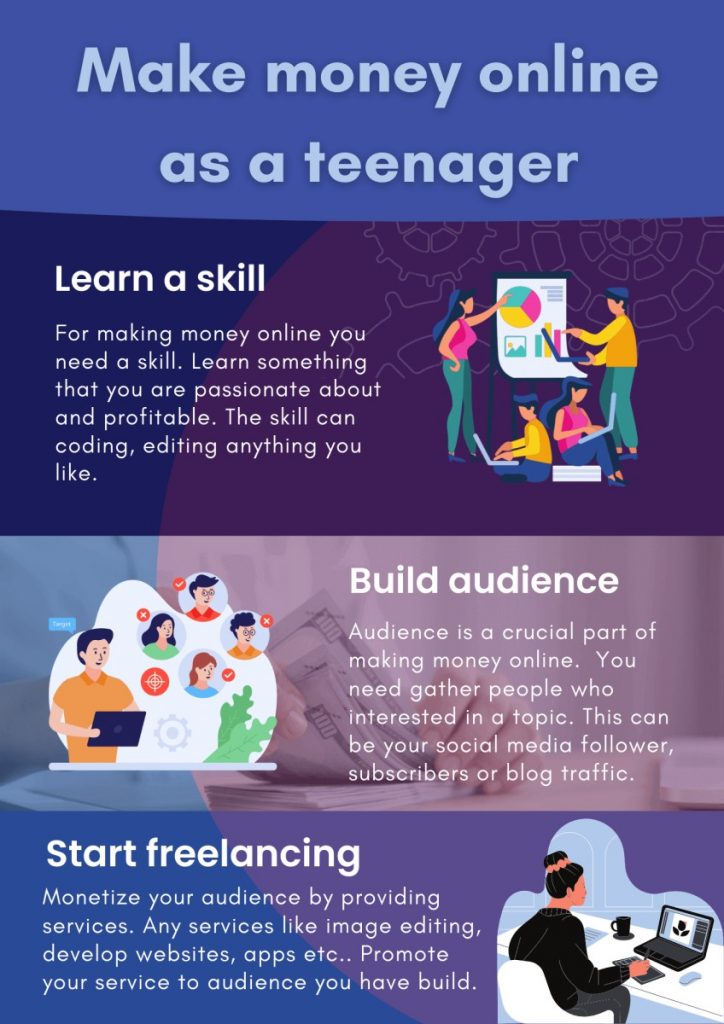 1. Starting a blog
Yeah ! starting a blog is a great way to make money online a a teenager. In my experience blogging is the best way. I have worked on many bogs over the years and i love it. You may have an idea about it, if not let me give you a quick introduction about blogging.
Blogging is just writing and publishing content online or it is an online journal. Many people write blog about their own life like a diary. But for making money i don't think it would work out.
For making money you need audience. Nobody would read about your life or even find your blog unless you are a celebrity. A blog can also be used to provide information about topics.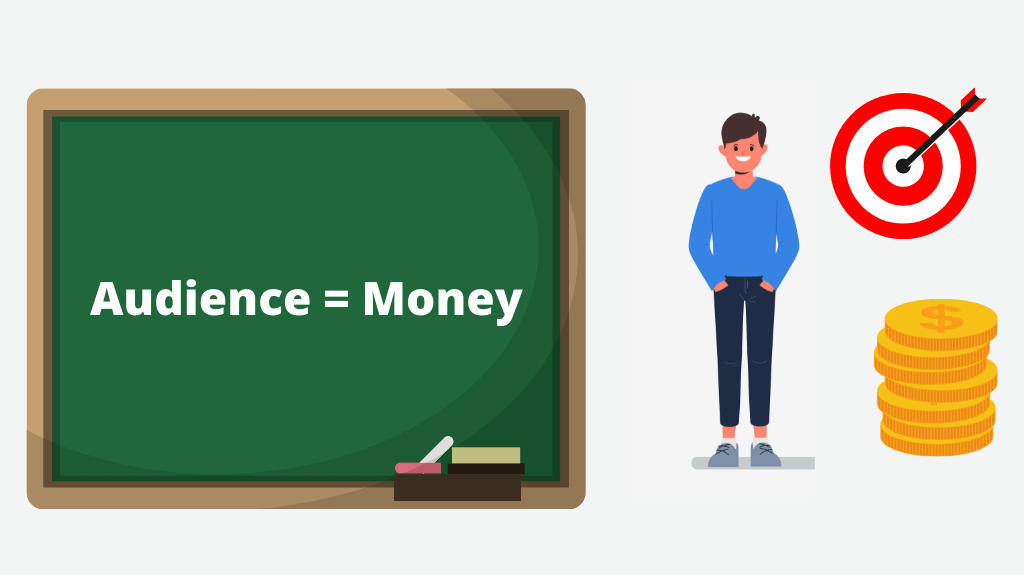 This article you are reading is a blog. Search results that appear when you type something in google is link to blog's that have written about the topic you searched.
There are a lot of blogs in the internet and so many articles will be published on the same topic.
So they are ranked on google on the basis of how helpful they are to the user. They determine this through crawling a web page with a bot. Optimizing you content for search engines and user is what called SEO.
For a teenager to make money online, this is a great way. There are many people doing blogging as a business and making a living out of it. A 15 year old can manage blog as a side hustle along with their studies.
If you want to know more about blogging and want to start one, you can always check out my article on how to start a blog step by step.
2. Do Freelancing jobs
What is freelancing ? A freelancer is someone who is self employed and earn money by providing services to people. You can do freelancing online. For this you need to have a skill that you can provide as service.
For examples writing,editing, designing, etc.. There are a lot of freelancing websites. I started in Fiverr. Here you can create Gigs and if someone order it, you can earn money. Gigs are just the service you provide.
You can sell services for web development, designing, data entry, any skill you have. Fiverr already has some category of services and details about it. You just need to write description for your gig, add images, price the gig and select what all things you will do in that gig from a list.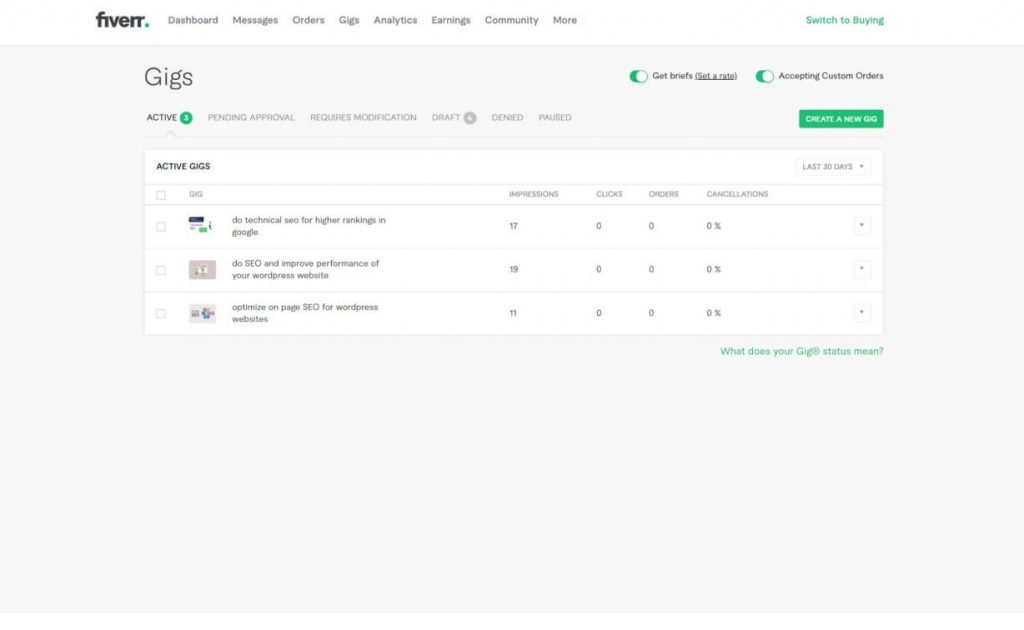 To get order on your gig, it should rank in fiverr search. For it you need 5 star rating for your gig. So at starting you can get clients from buyer requests.
It is an option in fiverr which shows people who have created and posted any service they want.
For you fiverr will show requests that are in your category or skill set. Any one can send offer to these request. The buyer decide which offer to select. So you have to make stand out offers.
Freelancing can be done in many other platforms and ways. There are may platforms like upwork, freelancer in which you can provide your service. Also freelancing can be done with your blog.
It is not necessary to use these platforms to do freelancing. If you have an audience, you can provide services and earn money.
For example you can get clients and work from your website. If you have a website with decent amount of traffic, you can create a widget something telling that you providing this service etc.. and add your contact details.
3. Start Affiliate marketing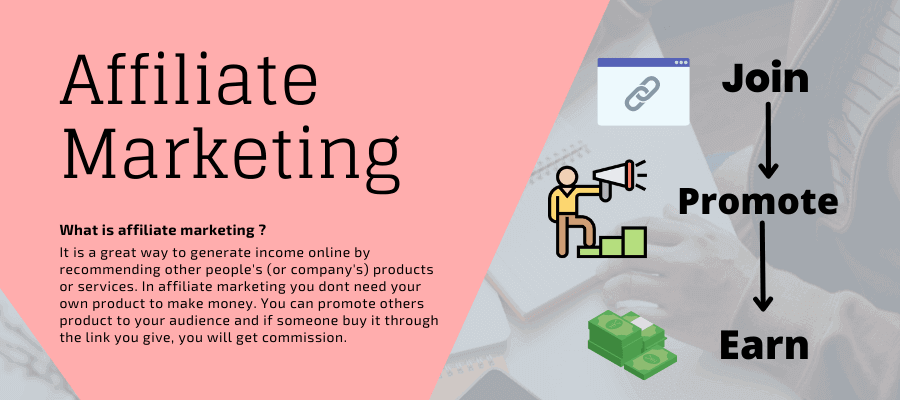 In affiliate marketing you can earn commissions by promoting others products. This a great way to make money online for teenagers as you don't need to create your own product, you can promote other companies products and earn money.
For affiliate marketing to work you need a lot of audience. Audience can be in YouTube, blogs, Facebook group, Instagram or in any platform.

So first for affiliate marketing to work you need to build a audience. Now the audience should be specific niche based. Niche can be anything.

For example you can build a community who are interested in android or tech niche.
You can start Facebook groups, blogs etc.. and gather people for asking queries and to talk about these. You can gather people by sharing, and posting content about it. Gain more followers.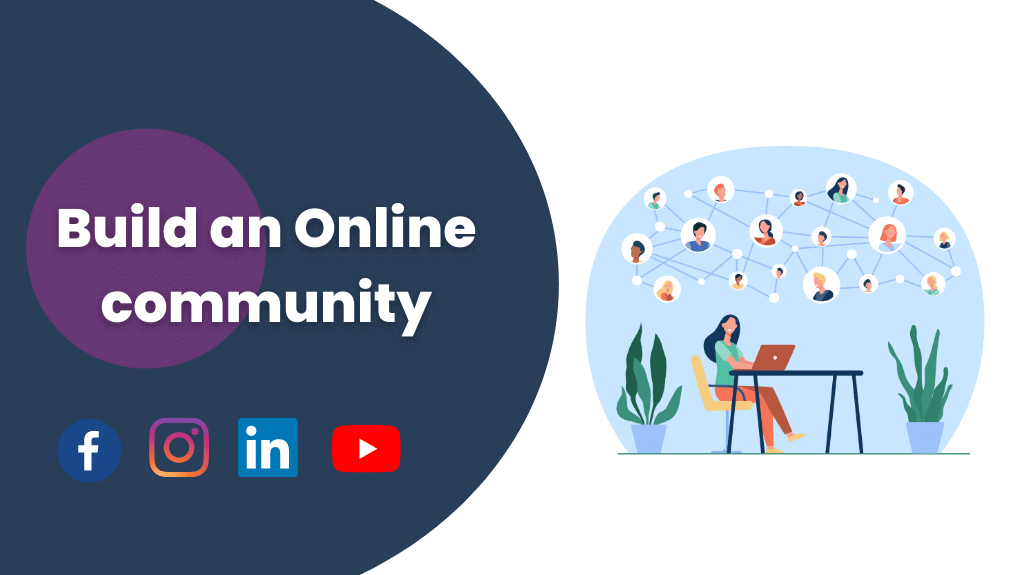 Then you can monetize these through affiliate marketing. You can promote the products in this niche to your audience.

For example, you can promote an android phone in your Facebook group, recommend this product when someone ask which phone to buy.

Make sure that the product you promote should be valuable to audience and should be good.

Promote products that you have used and liked or products you think are best. Don't promote a product, just because it gives you more commission.

People will loose trust in you when you do that. The product you promote should give them best experience. Then only they will buy from the link you provide again.
Now lest's talk about how you can promote a product and earn commission. For this you need to join the affiliate program of the product you are gonna promote. Most products will have an affiliate program(not every product).

You can join in them and you will get your affiliate link of that product.

If people buy the product clicking through your link, you will get commission money which will be mention in their affiliate program web page. For promoting products on amazon, there is an affiliate program of amazon.

It's called amazon associates. You can get your link of each product after joining this program and promote it to your audience.

Few other affiliate programs are blue host affiliate(affiliate of a web hosting), Flipkart affiliate (eCommerce affiliate), big rock affiliate( affiliate of a web hosting), Semrush affiliate (online SEO tool).
4. Start a YouTube channel
YouTube is a popular way to make money from online. You might know some of these ways. YouTube is a platform to publish video content. People monetize their video mostly through ads. The owner of the YouTube channel earn money from ads that pop up when you watch a video.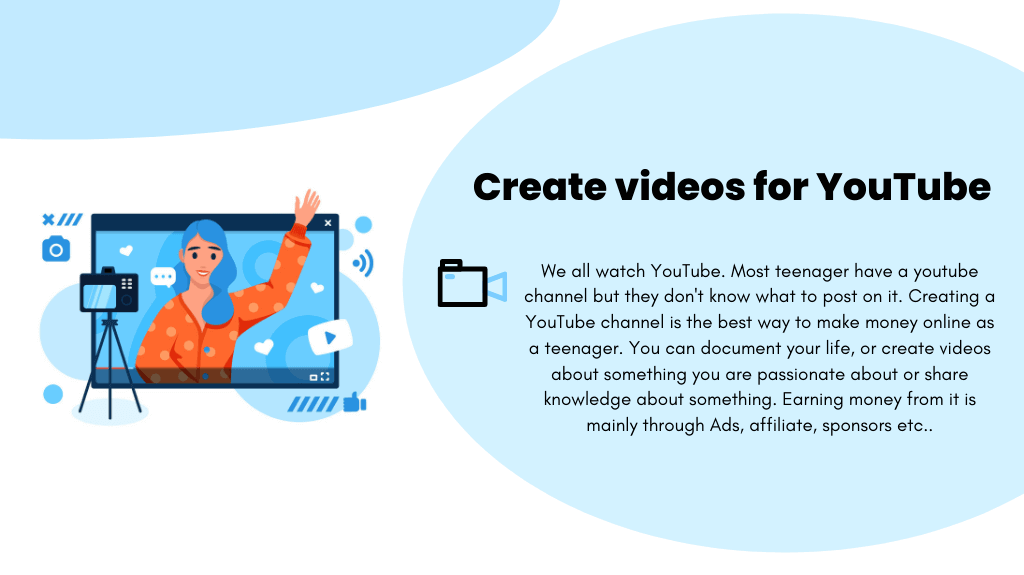 You too can make money this way. First start a YouTube channel around a niche. It can be anything playing games, or teaching football, anything you know.
Choose the topic of the channel should be something that you are into. You can create a vlog channel which document your daily life or traveling.
Next thing is create content around the topic. Make videos that are entertaining or informative, helpful etc..
Videos should be around a topic and if you are not in entertainment niche like vlog etc.. , you will have to rank your video in YouTube search. Videos about teaching something, guide, movie review, or how to videos usually get views from YouTube search.
These videos get views from recommendations also but majority will be from search since people usually search what they want to learn. For ranking these videos #1 in YouTube search results, you can do YouTube seo.
It is just optimizing tags, description, title etc.. for ranking better in YouTube. People will find your video through search and recommendations.
Keep publishing videos regularly about different topics for faster growth of your channel. In between your videos ask people to subscribe. If you don't mention to subscribe, they wont subscribe. Say it in beginning and at the end of the video.
You can check out my article on how to create a YouTube channel and earn money from it (if don't know how to create one).
5. Write and sell E books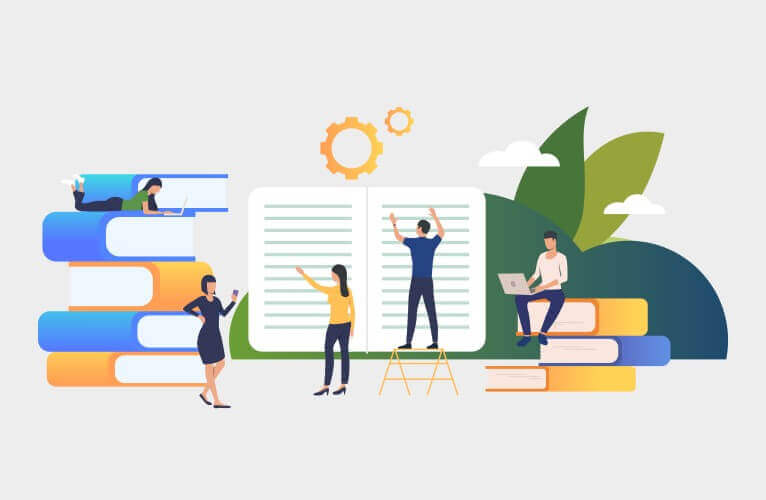 Ebooks are a great way to make money online. People read ebooks of all kinds. You can create your own ebook and publish it on various platforms. An Ebook is a book available in digtal form. You all might know about it. Did you know that you can make moeny by selling ebooks ? There are many people making money by selling ebooks. Ebooks should have information about everything on a topic.
E books are mostly written in form of PDFs. You can write a PDF about a topic and publish it on platforms or in your own website.
For writing an eBook first you should choose what you are going to write about. An eBook can be written on any topic. You should know enough about the topic to write about it.
Know your audience.
You should know what the audience want on the topic you choose.
It should contain all information about that topic. You should organize it chapter by chapter. Write down all the subtopics under the main topic. It should be written as subheading.
Fill in these subheading with the content and images. You can also download different templates for eBooks from the internet. Check out this one if you want templates for eBooks. In this website you can use some free templates but you will have to sign up. It makes your work easier. The whole design for your eBook is already there. You just have to fill up each space with your content. If you want to design your own template you can use this free online eBook creator.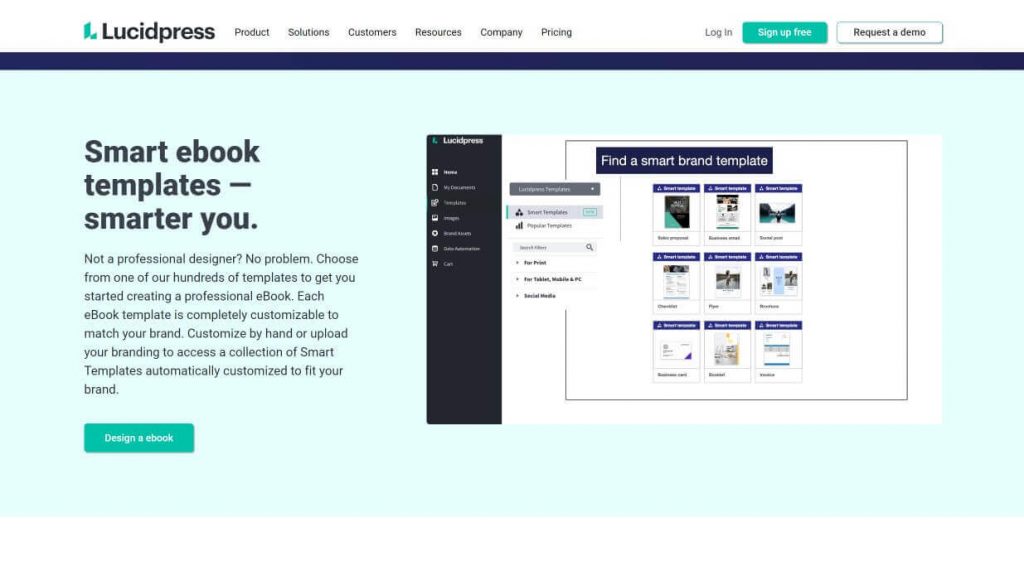 Now,
How much words should your eBook be ?
Generally eBooks can be of 2,000-10,000 words. This depends on the topic. If the topic is large and has a lot of things to cover, it can be above 10,000 words. But i wouldn't recommend writing eBooks below 2,000 words.
How to choose a title for your E book ?
Now the a crucial part while writing an eBook is choosing its title. The title should be attractive, eye-catchy and it should make people wanna buy it. Make your title unique and it should illustrate the content inside the eBook. It means that if person reads the title of the eBook, he/she should get an idea about the topic of the book.
Now lets take a look at how to sell and how much should you charge for your book.
Where should you sell these eBooks ?
You can sell this eBook in amazon kindle, google books and many other platforms. Search in google and you will find it. Another great way to sell eBook is through your blog or YouTube channel. This way you know you audience better and can write eBook on the topic of your channel or blog. If you have considerable amount of people in either of these, you can sell the book easily.
How much should you charge for your eBook ?
Price your eBook between $2.99 to $9.99. If you have a large amount of audience and what you say influence them, you can charge more. But i would recommend the above mentioned rage. The price should be kept low as there are many eBooks out there of less price on the same topic and some of them are even free. So to sell more, keep your price between that range. You should be very famous or influential person, like should have a YouTube channel with more than 1 million subscribers to charge more than that and get people to buy the eBook.
6. Become an Instagram influencer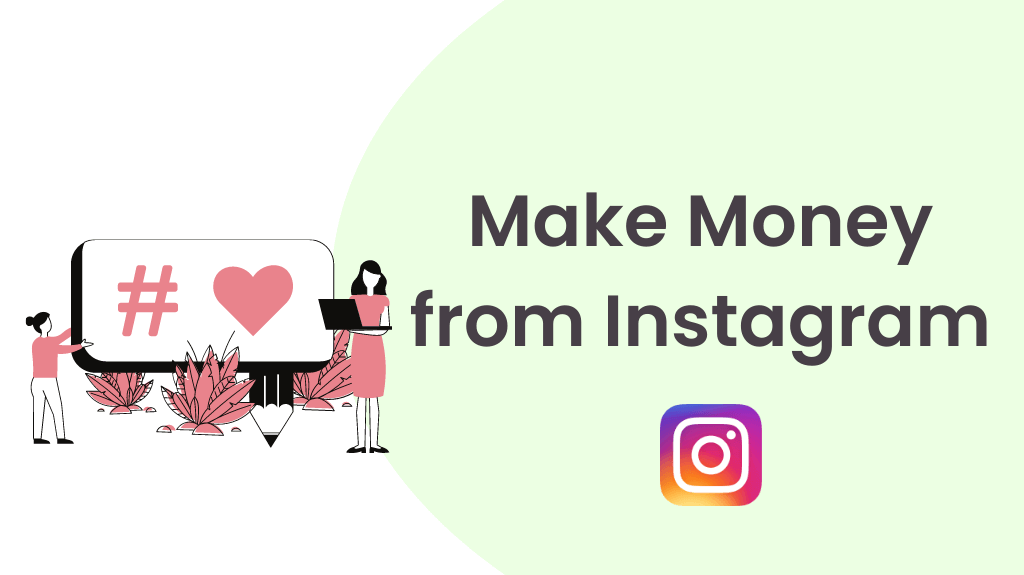 Instagram is a best way to earn money. By becoming an Instagram influencer, you can make money by recommending products or providing services.
This is a great way to make money as a teenager as most teens spend more time in Instagram these days. It would be good for you as you could gain more experience in the field of making money by doing what you love.
Let's get into how to make money from Instagram.
First, obviously you need more followers for making money. For making money online the key is always targeted or niche based audience.
You can either start a Instagram page on any topic you love like photography , art, singing, motivation etc… or start an account in your own name.
When you start account in your name, for gaining followers you will have to follow the trend in Instagram and post reels according to trends.
You will have to entertain people like do comedy skit etc.. to gain follower.
This way if you get 500k followers you will be celerity. You will sponsors and many many ways to make money.
Next by creating a Instagram page on certain topic and providing people with information the topic. These way you could get target audience who are interested in the field and make money by promoting a product that is related to the field. For example a page about photography.
You will get people that interested in it and when you have enough followers you can promote products like best cameras, editing tools, lighting etc..
To make money from social media the key is to influence your audience. You should be able have a influence on the decisions they make. This depends on what you say, what you provide and how you interact with them.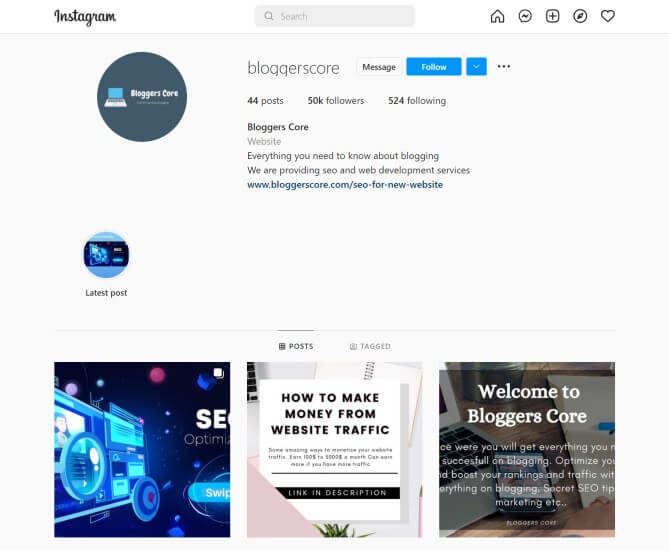 For example, if one of your follower is going to buy a cameras, they should consider what you said about the product.
If you can have that influence on people decision you can make money easily through affiliate marketing. For building that kind of trust, you should provide them with honest, valuable content.
You should provide an honest review about a product, what you felt while using it. Don't lie just to get commission. If you do that, it will break their trust in you. Interact with them if they have any queries, answer them.
It is not possible to use every product in the market and give an opinion, but you should do your own deep research as if you are going to buy it. Talk about both pros and cons.
Another important thing is not arguing with haters or get angry with mean comment. When you do that your value become less.
If someone criticize you or hate you and comment it instead or reply with anger, apologize and ask them where should you improve in your content.
Get their opinions, show maturity. This would make the hater turn into your follower make them into liking you.
7. Providing writing services
Writing Guest post and freelance writing are some other ways to make money online for a teenager. Here you can make money online as writer to other blog and publishers.
For writing about something you need skill of research about a topic and should have some knowledge in English. You can provide services for writing content for other blogs and publishers.
There are a ton of content writing jobs. You can see these by searching content writing jobs in google. You can provide content writing services in platform such as fiverr, freelancer, upwork etc.
Guest posting is act of publishing content for other publishers, brands or blogs. Some websites accept guest posting and not all of them will pay as money.
Most of these websites will give you backlink to your blog/website in return for writing for them. Out of my head, some website I remember that allow guest posting are Copy blogger and Hubspot. You can find website that are accepting guest posting from online tools.
Those websites that want guest blogger will post writing jobs in the platforms such as accessily.com. In Accessily you can become a seller and provide guest posting services.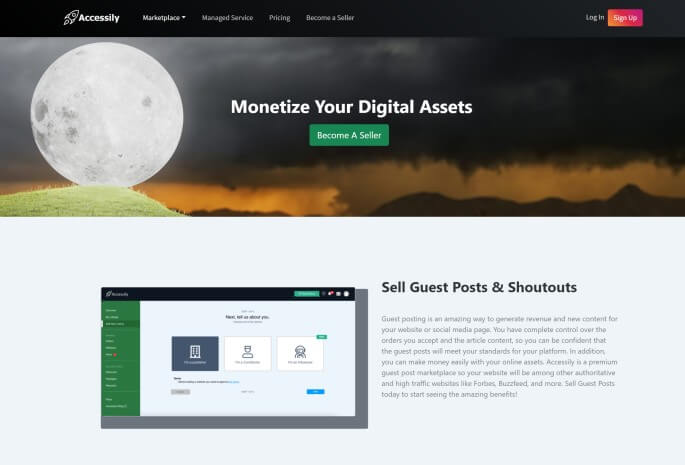 Most websites charge money for guest blogging. It means you will have to pay them money to write on their blog and in return you can add a link back to your website which will help you rank higher in google search.
For getting content writing jobs online, you should have better knowledge at writing, SEO etc..
You will have to create outstanding content for webmasters to accept your request to guest post. Other than guest posting there are many other way to make money through content writing.
Medium is a website in which you can create account and publish articles. Medium is large publishing company and the people who create account in it can publish content on any topic in their own name.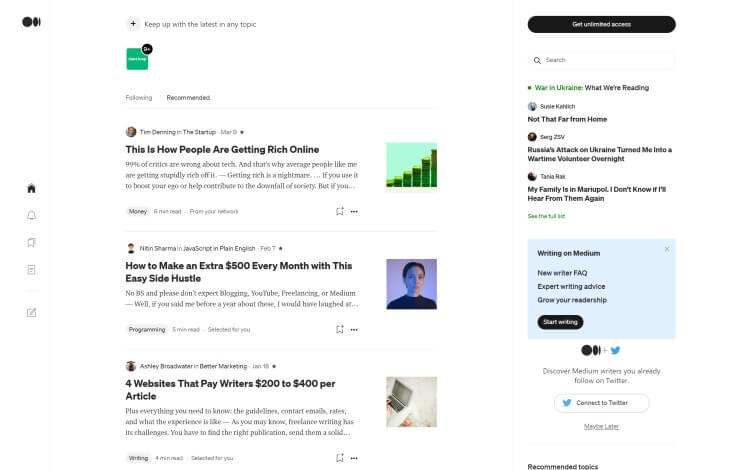 It is similar to starting a blog except her you only need to write articles and keep publishing on any topic that interest you at the time.
8. Logo designing service
Logo designing is another popular way to make money online as a teenager. I have seen many of them earning more that $400 per month.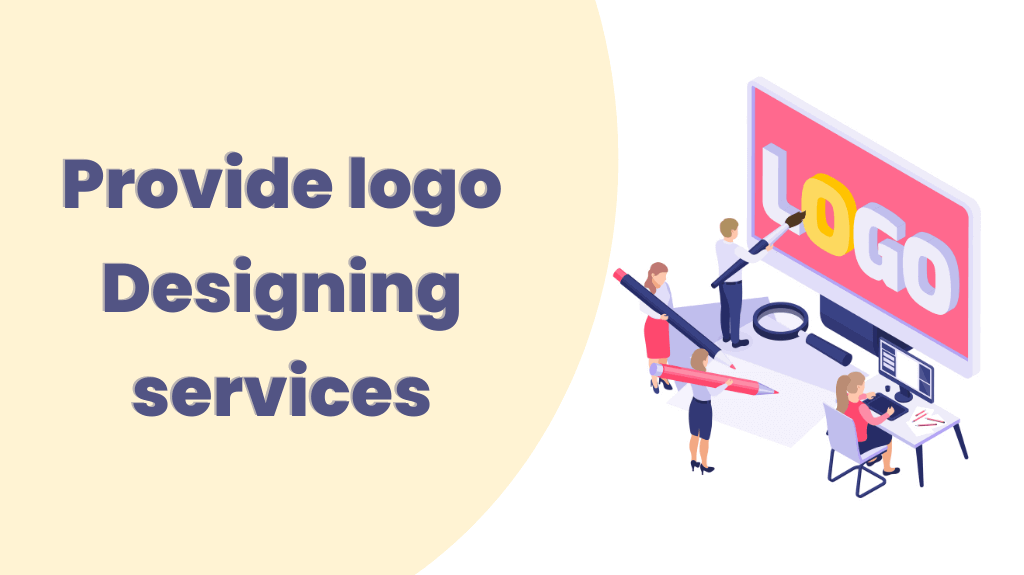 As the name suggest, it is about creating logo's for websites and brands. There people who make more than 100k dollars for designing a logo.
But those people design logos for big companies and brand.
As a teenager you could design logos for some small brands. There are small websites looking for someone to design their logos.
You can make some bugs from these if you have the skill.
How can you get logo designing works ?
For this you need to practice creating different logo design for your portfolio. You can make a portfolio which displays your skill in logo designing. It can be a simple html website or PDF.
Website would be more better and professional as people can access it from any where. You can design logos in online tools like canva.
If you want to make better logos and want more features to design logos in any design you want you should use Adobe illustrator.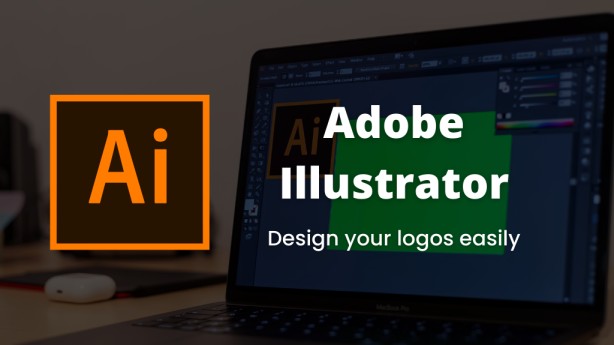 This tool will be hard to use and you will have to learn it watching YouTube videos. In this tool you can make any type of logo in any design you want. Most professional logo makers use Adobe illustrator. So learn how to use illustrator first.
Then try creating some logos. You will improve your designs as you practice. For practicing select a niche for example "technology" and make a logo that would fit for a website or a brand related to it.
From these logos you make, choose the best logos and add it to your portfolio. Add your contact details, describe your skill etc.. in your portfolio.
Publish the portfolio. Share it everywhere on social medias. Creating a Facebook, Instagram, accounts and groups about logo designing and promoting you logo designing service there would be great to get customers.
Send people message asking if they want a logo and describe your skill in logo designing and share the portfolio. Just like an advertisement !
You should not spam. Approach like a professional designer.
If someone who want a logo and see your post etc.. and if they like designs in your portfolio, they will hire you for making their logo.
As you starting out you provide service at low price. Like $15 dollars per logo. When you get more works and get popular you can increasing your pricing.
Also there are platforms where you can provide logo designing services. In freelancing platforms like Fiverr, you can create a gig about logo designing.
9. Image/video editing service
Editing images/video that most of you might know can help you make money. These days many people are looking for hiring someone to edit images for their blogs and social media posts.
I think most of reading this have a little idea about editing an image. if you don't have, don't worry. You can learn this from the internet for free. Also you have to good at it for providing image editing services.
There are ton of tutorials on YouTube about image editing. There are online tools canva, picsart and big professional tools like Adobe Photoshop for this.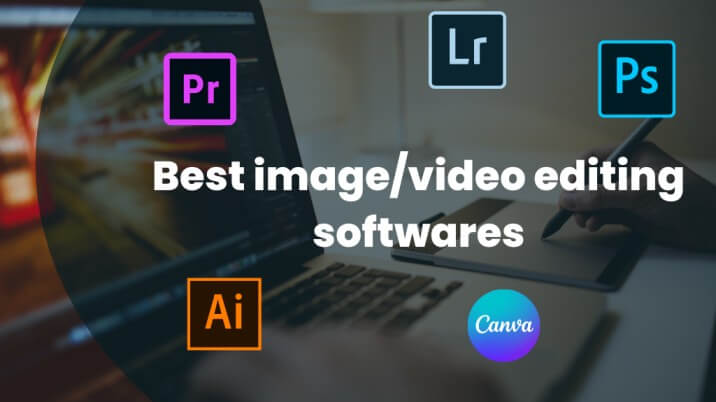 Nothing much to learn about editing an image in canva.
It's simple and you can figure it out yourself. It would be great if you learn how to edit in Photoshop.
Image editing is great skill for making money online as teenager. For clients, you have to enter into social media and promote your service. You need to gather people who are interested in the same niche (topic) to get clients.
Clients that you would get will be more bloggers as they want image for their blog posts. Create a group focused on gather people on this niche.
Then promote your service. This takes time. You have to be patient and consistent in posting content on your social media accounts for results. Another way is to go to platforms where you can provide service.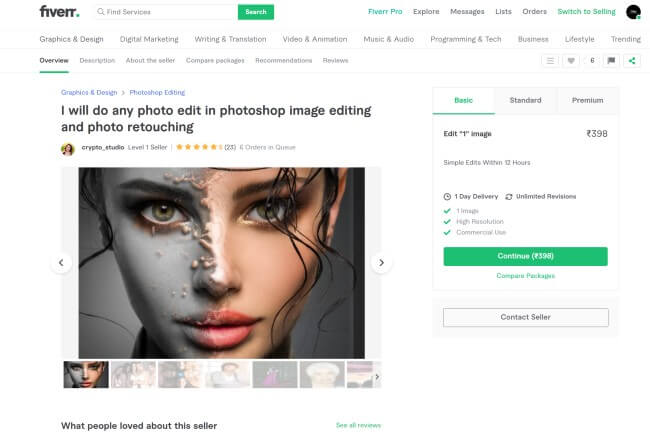 I have been repeating this the whole article. In Fiverr or Freelancer or Upwork, you can create a gig (provide service) on this. People who want image editors will come on these platforms and buy your service. They will find you through search box in these platform if your service rank in it.
People will enter image editing in the search and a lot of gigs will come. If your come in first page people will see it and if it's convincing they will buy yours. Also in these platform , you can see people who post jobs.
If you are interested in image editing they will show you buyer request asking for image editing.
You can send your gig and describe your skill to them. If your was convincing they will buy your.
In freelancing platforms, it would be hard to get your first work but when you get one and if they rate you five star, it will be easy to get the next work.
Video editing is also a great way to make money. YouTuber's who are looking for video editors will contact you if they see your profile in social media or freelancing platforms.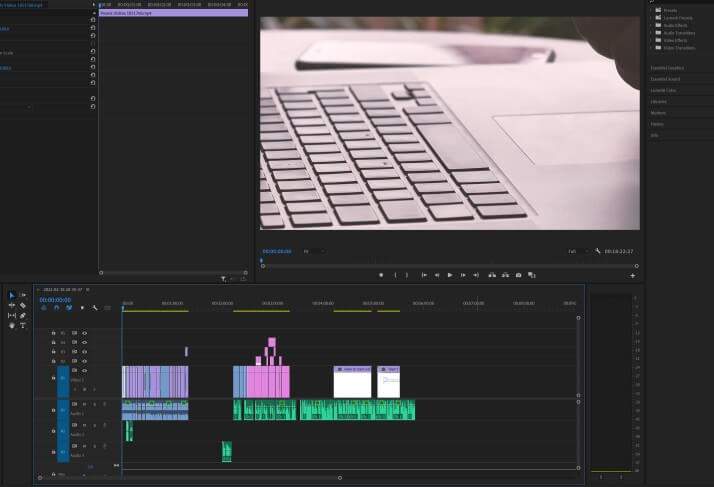 An average video editor/image editor earns about $806 per month. If you could get more good at editing, it will be very profitable.
So that's all about image/video editing.
10. Sell stock images
You can sell images on the internet to make money. There are websites which sell images on different topics.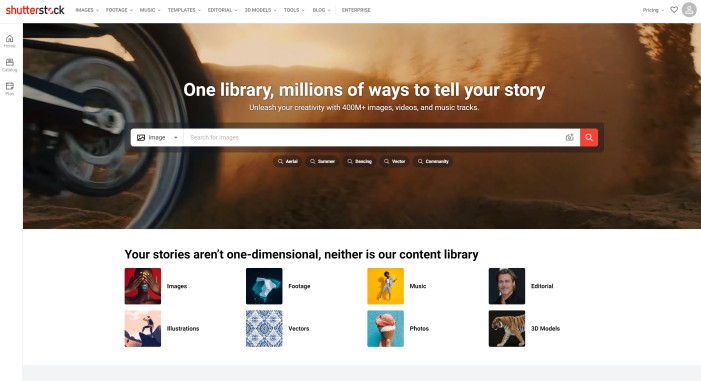 You can contribute your image to this website. When someone buy that image, you will get a percentage of that money.
These earnings can be little. But if you create more quality images and enough people buy it, you can earn decent amount per month.
For selling stock images, you need a camera. You should take good photos of thing on a topic. For example nature, birds etc.. are some niche.
Also you can sell animated images illustrations etc.. which are highly in demand. Bloggers and publishers use animated illustration more for their blogs.
You don't need cameras but you need to learn to use Adobe Photoshop or Adobe illustrator. To create a new image these tools are popularly used. Creating a illustration from scratch can be very hard.
For this you need to be creative, have different design ideas. You can search for some illustrations in google and you will get an idea about it.
Illustrations also have niche. For example a person holding computer, tech person, developing web etc…
As a beginner using these tool will be hard and time consuming. You need o put in the maximum effort to get good at it.
Then after creating images or illustrations, sell it on stock image websites like shutterstock or freepik.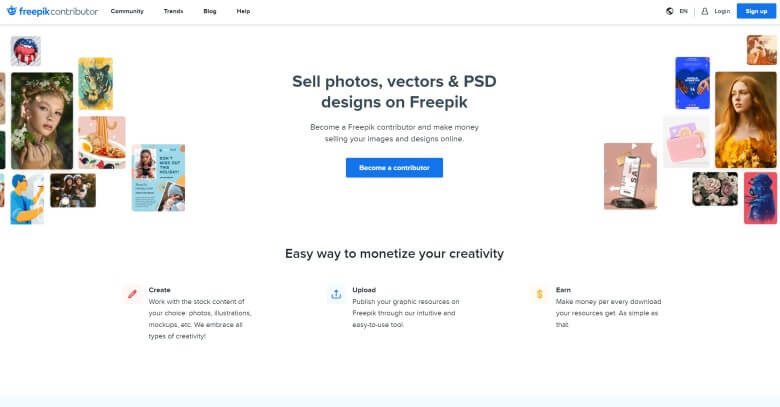 There many more websites, you can search it on google. Create your seller account in these websites and sell the images you made at a reasonable rate.
For some image the rate would be $0.49 per image and for some it would be $8.67 dollars per image. Earnings by selling one image will be less. As more people buy your image you can earn more.
11. Convert audio into text (rev.com)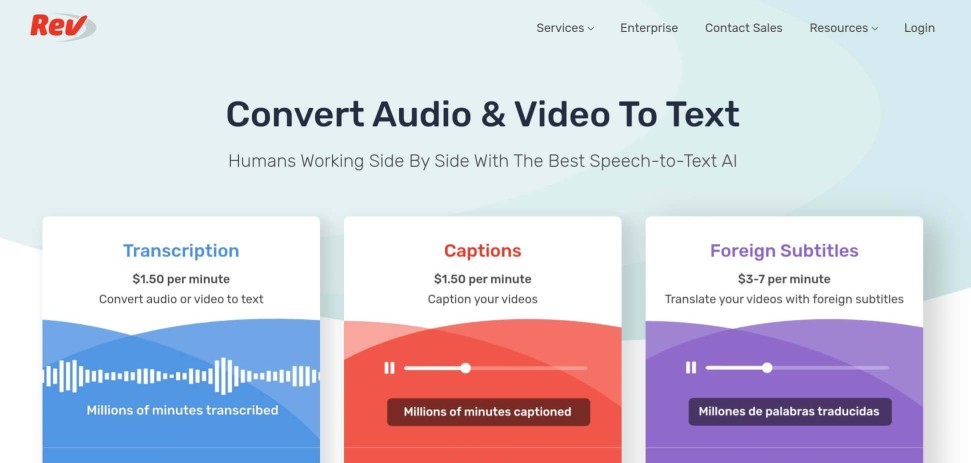 Rev.com is website where you can make money by converting audio and video into text. For example writing subtitles for a video. You can earn $1.50 per minute doing transcription online.
As a teenager this is a best way to money money online. You don't need any special skills. You just have to covert what saying in the audio or video into text.
In their website they say "Average Rev transcriptionist completes 15 jobs and earns around $156 per month, and this figure includes those just starting out".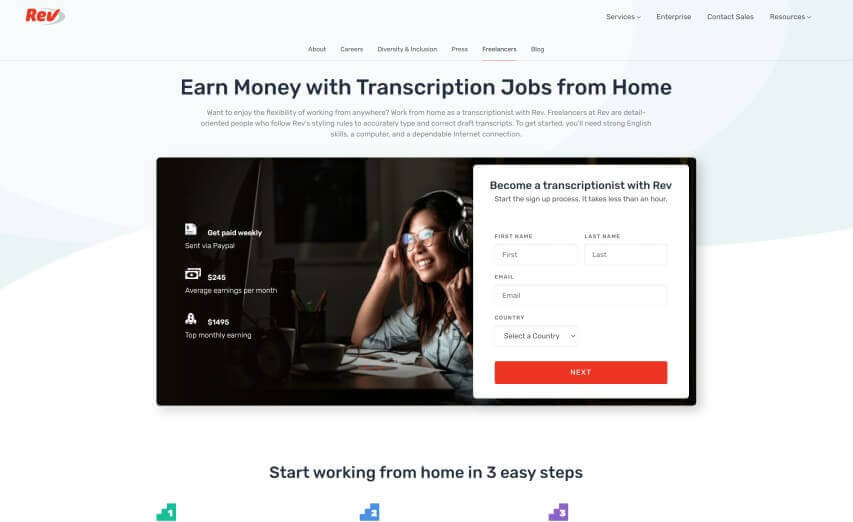 Create an account in rev.com. Create account as a freelancer. For use this link to create account. While joining, you will have to take a quiz and submit a transcript to demonstrate your mastery in English language and Rev styling rules.
You can check these on google. After that is they approve you got the job. You will find hundreds of transcription jobs to choose from.
Select jobs you are interested. You will get paid weekly via PayPal. Every Monday you will get paid for all audio files transcribed and completed works.
Conclusion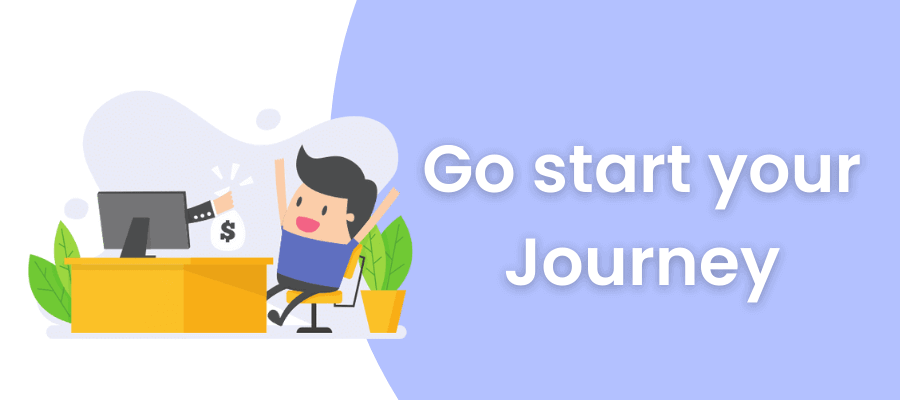 I hope you got an idea of how you can make money online as a teenager. These are some best ways through which you can make money. Remember that for getting results, you should work hard.
For making money you will have to put in the same amount of work as in any other jobs. The result will be for what you do and don't expect anything. You might dream of becoming very rich quickly living like people you see online but you wont get there if you sit and dream.
The process of getting there is hard. I hope now you know what to do to make money online and i hope this article made you aware of some better jobs than scrolling Instagram like any other teenager. Which way are you gonna try first to make money online as a teenager ? Let me know in the comments.