Social media has been growing very rapidly. More and more people are creating accounts on these sites. it is a great way to promote your business/website and get more sales.
According to data collected from different websites, 58% of the world's population uses social media. That's 4.62 billion people. The average time spends on different social media is 2 hours per day.
You can see from these data how important social media is becoming in people's lives.
This growing influence of social media can be beneficial for businesses. Social media are a great way for converting people into buying a product or visiting a website. It helps in building brands.
Social media are also a good source of website traffic. Social traffic can also help you increase the rankings of your website on google.
Also, we can get targeted traffic, build a community, and affiliate marketing using social media.
I have been using different social sites to promote my website. When you start a blog, in the beginning, you won't rank in search or get search traffic. You will have to depend on social medias to drive traffic to your website.
There is a variety of strategies for promoting your website on social media. In this article, I will show you all methods through which you can promote your website on social media.
So let's get started.
How to promote website on social media ?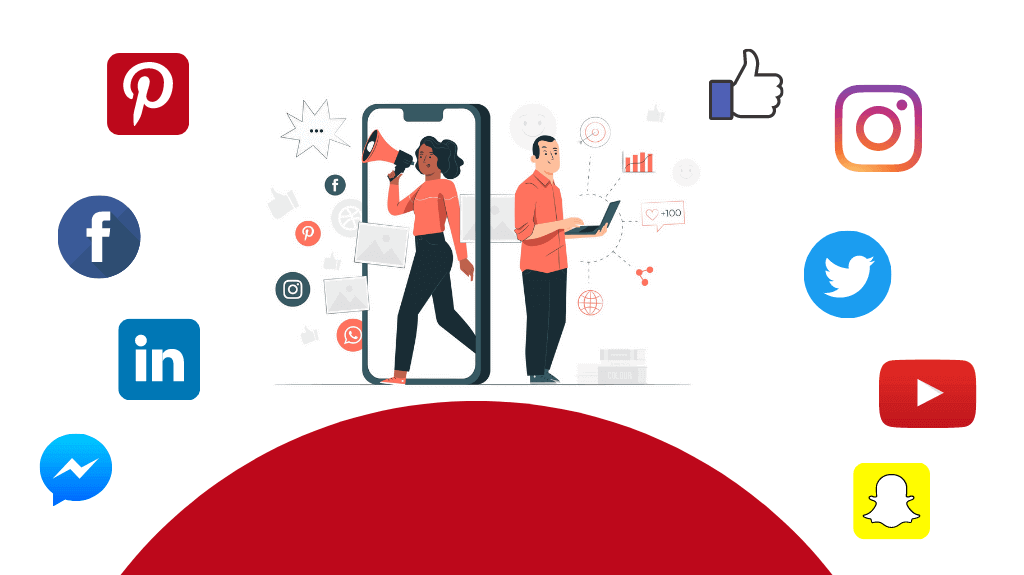 For a new website getting traffic can be hard. While most social sites do not give a do follow backlink, links from these sites are still useful. There is something called domain authority.
Domain authority is a search engine ranking score developed by Moz. It tells us how likely a website rank on google search result pages. Having more social shares can help get more domain authority scores.
Being popular in social media gives brand exposure and if people click and visit your website, you can also rank higher in google.
While social shares or social traffic (traffic from social medias) does not directly affect search ranking, still it has a influence in web rankings.
So let's get into how you can promote your website on social media.
1. Build online presence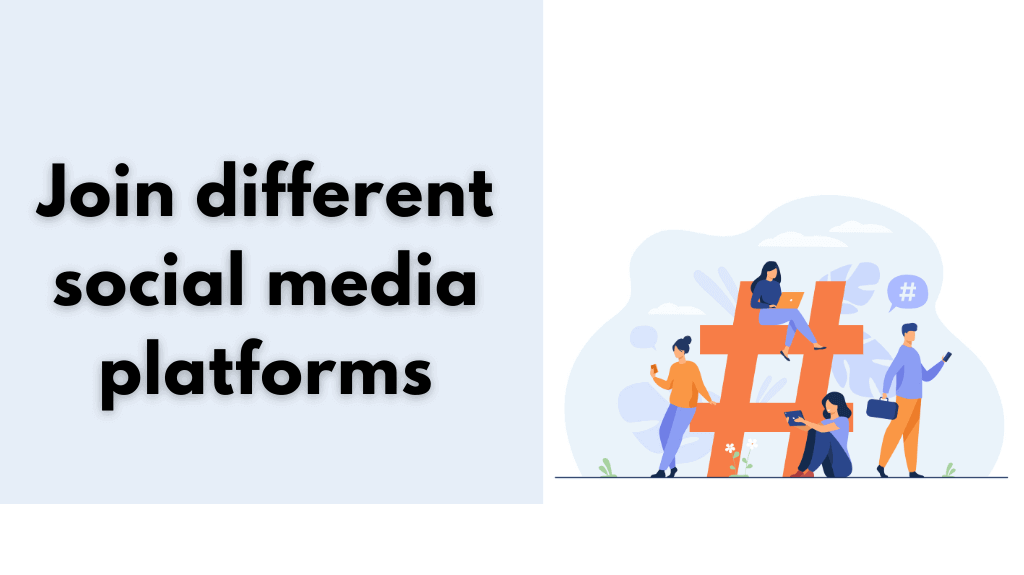 First step is obviously, sign up to most popular social sites. You should be on every popular social site. Join Facebook, Instagram, LinkedIn, Twitter and Pinterest. Build your audience. As usual you should be trying to get followers in these sites. Create account in the name of your business and share it with your friends and other people.
Build social media presence. Facebook is a great way to start. Start Facebook groups and pages for website and post on it regularly. Invite people into your group. Post video content, text, image, stories every type of content you can create.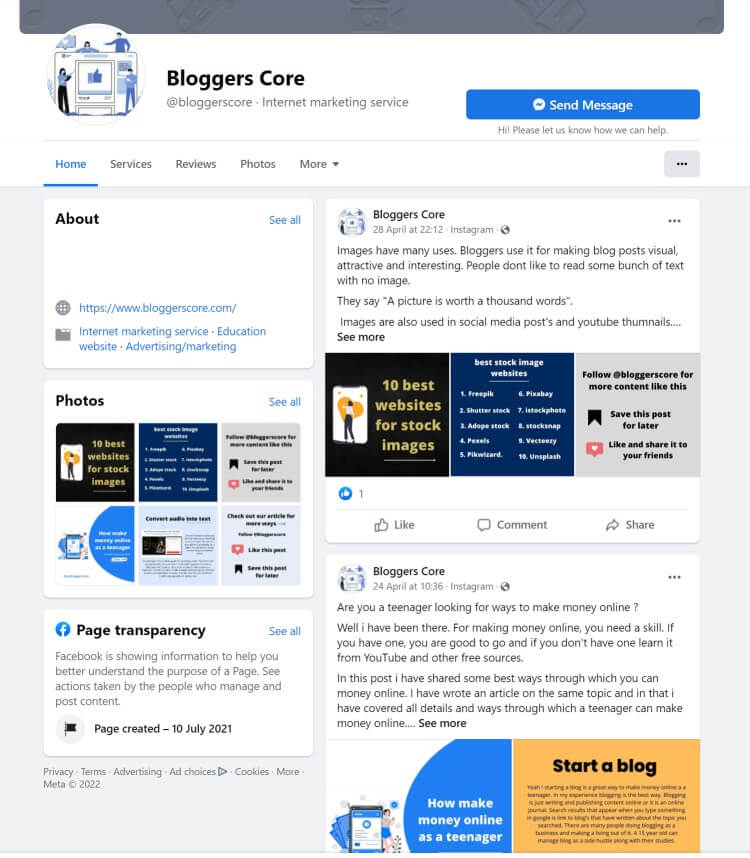 Then start an Instagram page. People who use Instagram are mostly youth. So create content that will attract them. First make your profile complete by adding bio, image, email and all. Then start posting content. Post reels, videos, images, stories on Instagram on a regular basis.
LinkedIn is a great platform for getting an audience. This platform is not like other social media. It is for people to get jobs and hire other people. So on LinkedIn, people are more career focused and post content about jobs and businesses. So it is great way to build a targeted audience.
Twitter is micro blogging site where you can publish tweets which are small texts. You can also share images, videos and links. People usually tweet about what's going on now in their mind. You can create twitter page for your website and tweet promoting you latest content and share content on a topic.
Pinterest is image sharing platform. You can only post images with a description and very short videos in this platform. Post images and info graphics on interest about your niche and fill in these info graphics with content. These images can rank on google that way your page will get popular.
Create content about niche of your website/business and post it in these social medias. By posting content on a specific niche, you will get targeted audience. An account based on niche can get very profitable audience.
2. Start a YouTube channel
More than 80% of the content consumed on the internet is video content. Most people go to platforms like YouTube for learning things. Video content influence people more as they would feel a real person talking to them.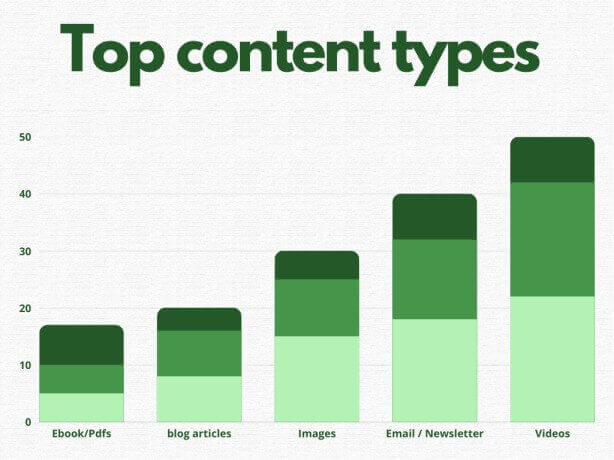 Video content is a great way to promote your website. When it comes to publishing videos, no other platform is better than YouTube.

Creating a YouTube channel for your website is best way you can improve your traffic and rankings. Through YouTube your website will get exposure.
This is the time to take advantage of this growth of YouTube and other video streaming platforms and take action. Create video content and publish on YouTube. If you link back to your website from YouTube you will get desired traffic and growth instantly.
Another advantage of YouTube is that it is easier than blogs/websites. Thus YouTube is a the best way for business/website owners for promoting their products and pages.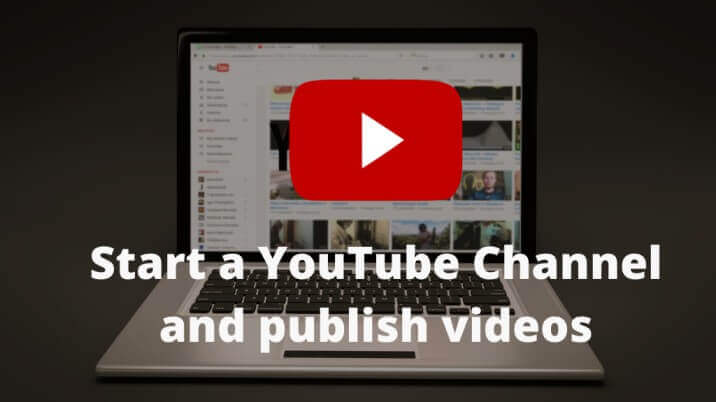 It is personally my favorite way of promoting website because it works faster. I have got incredible results doing this when I was just starting out. Publish a blog post and post a video on YouTube on the same topic.
Convert the text content you publish on website into video content and post it on YouTube. It not that hard to get some attention in YouTube. Compared to website, YouTube is easier.
You just need to publish videos regularly and you will at least get a 1000 views. Promote your website in between the videos and provide a link in the description.
You might most think people won't check description box. I used to think the same thing. But surprisingly many will check out. I found out this when i published videos on YouTube.
When I checked my google analytics, most of the traffic came from YouTube description. And also this traffic from YouTube gave a boost to my rankings in google. That's why I telling you to start a YouTube channel and publish videos corresponding to your blog posts.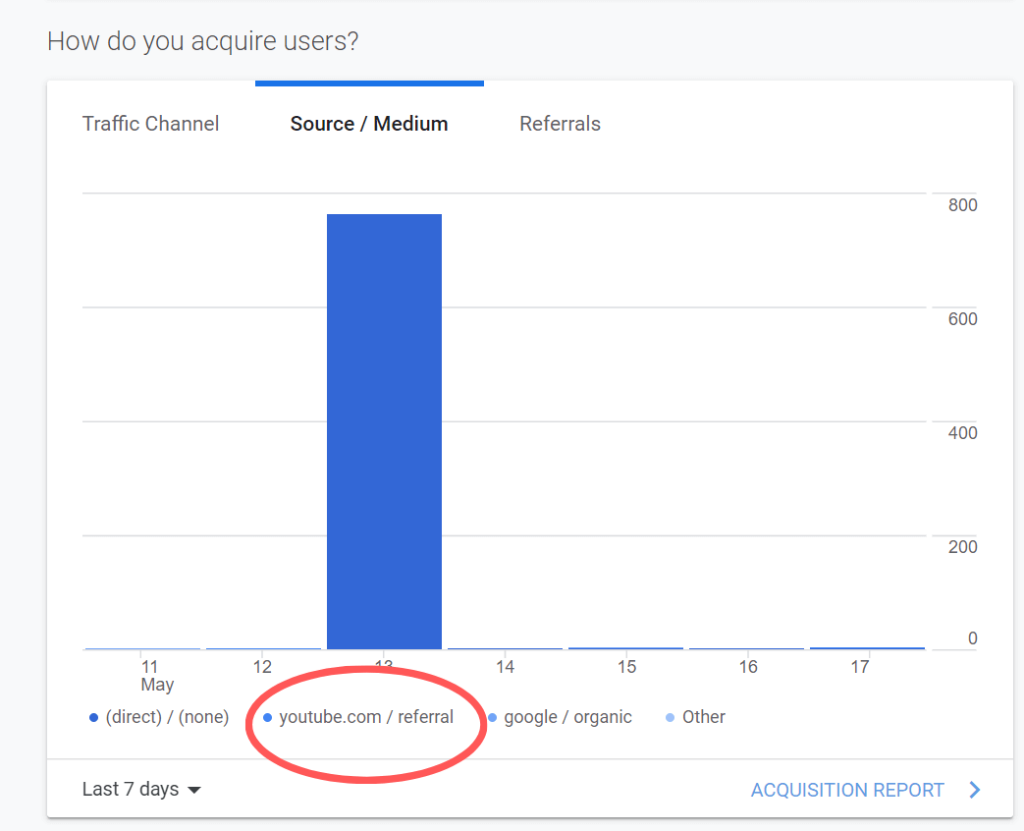 You don't need millions of subscribers to drive traffic from YouTube to your website. You need only a 1k or 2k views per videos.

If the promotion is done right, you can convert most of these people as visitors your blog or make them sign up for your email list.
If you niche is about teaching something, you can provide materials for reference on your website and give a link to that page in the description box.
Mention it in between the video also. That way you people will check out the page and you will get visitors.
This will increase you domain authority and that page is likely to rank higher in search results.
I won't say traffic from social media is a google ranking factor, but in my experience it does help you rank higher in search.
You will get an exposure as your website name or brand is being shared in social medias many times.
People will start noticing you and google rankings will eventually go up.
My favorite way to promote my website content is creating a video on the same topic and posting it on YouTube.
Along with it, embed your YouTube video in between your blog post.
This is a best way as it will help people who don't want read a whole article.
3. Create quality content
In social medias, the crucial part for getting followers is creating quality content. You should create content that is helpful to people or something that is informative to people. You might have seen these "Did you know" posts that share amazing facts about a topic on Instagram.
Create that type of content so that more people will check out your post while scrolling through explore page. These titles like "did you know" or some titles that give partial information about a topic create curiosity in people and chances are more they will check out the post.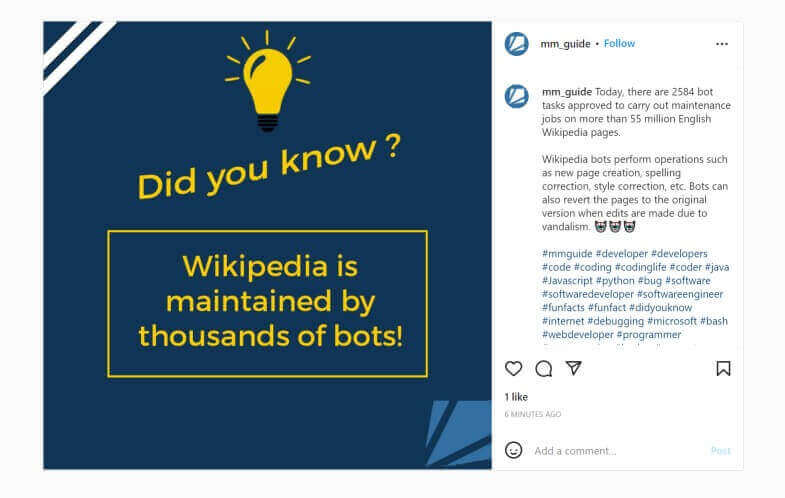 Quality content means content that is useful or content that gives people information about the niche. Your social media pages should be focused on the niche of your website. Publish content on that specific topic.
Know your audience. While creating content, think about your audience and what they want. Provide info about the latest thing that is happening in that niche. For example, if it's a tech niche, you can post about the latest tech news or features of a certain phone or share any trick or feature that most people don't know.
Post's sharing tricks that most people don't know tend to get more clicks and views. Post that share facts also tend to get more views.
Content types like polls or ask me anything will help in getting more followers. On Instagram try to post slides of content instead of a single image. Most people are lazy to check the other slides but still if you have the right eye catching and attractive titles, people will check the other slides. You will be able to share more info about the topic if you create slides of images.
Infographic content performs well in social medias. For making your content interesting and visual, add animated images and illustrations.
Memes are also a great content type that are hit on Instagram other social medias
You can use tools like canva for creating content for social medias.
Create savable content on Instagram. People usually save content sharing something useful and that might have use in future.
In Facebook. LinkedIn and other platforms, provide some part of the content in the post and link it back to your blog post.

People wont check if you just share a link. They will think it's a spam. Provide the content and then link back to your site.
On last tips is that in social medias, content is the king. So make it the best.
4. Join and create groups
The next thing is joining groups. Join different groups on the niche same as your's. Interact with people in them and share post's. Promote your website there along with providing content. There are a lot of groups in Facebook on almost every niches.
Facebook groups can help you grow your website very fast. These groups will already have tons of people following and you will get best place to promote your website. You can drive targeted traffic from Facebook groups if you promote in groups which are about same topic as yours.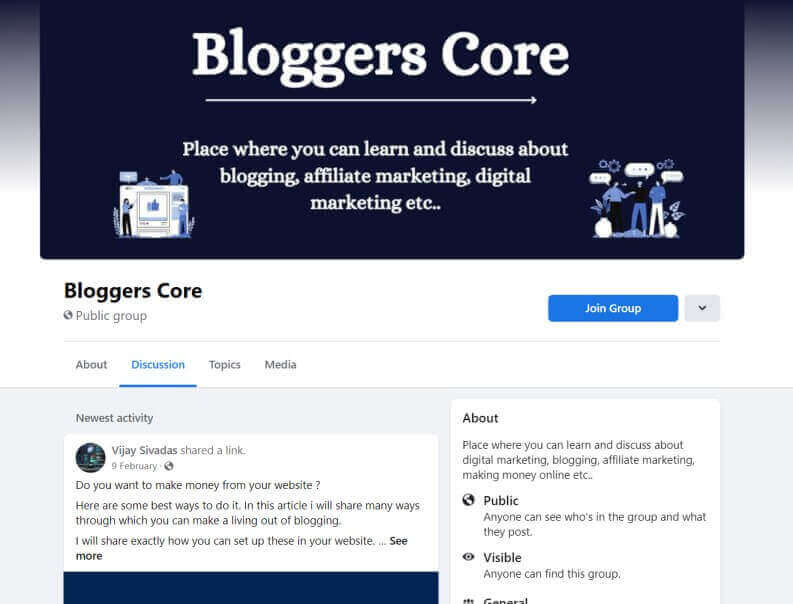 Social media groups are communities of people who are interested in the same topic. They share and interact with content on that specific niche.
Most people in a group will be interested in the topic. So you can get more people to click your website link from these groups if promoted the right way.
For finding groups that are in the same niche as your website, search on the Facebook group's section for the topic. For example, my niche is blogging and marketing-related things.
So I can type in blogging or marketing in the search and select groups. It will show me groups that are based on it. if there are no groups on that specific topic, then it will show irrelevant groups to that i searched.
If you search android or tech etc.. you will get tons of groups that are on these names. The advantage of these groups is that they will already have thousands of people in it. So you will get a niche-based audience to promote your website.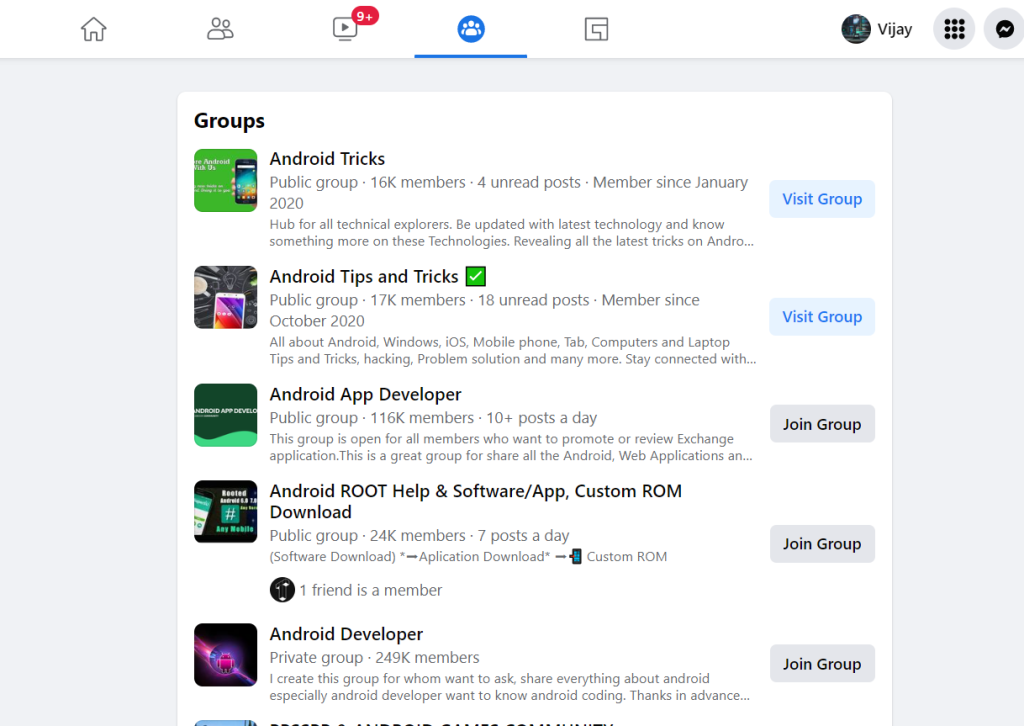 Now don't just go and share your link on the group. Sometimes, provide content that do not have links.
Just pure content and no promotion. Be active in the group and slowly you can start sharing your articles.
Answers to group posts that ask for help, let's say someone asks a source for learning a certain skill. These can help you build a connection with these people.
Then you can start your own groups. Invites these people from other groups. That way you can build your own community.
The people who join your group would be people who want to hear from you and follow your website.
5. Share and reach out to people
The next step to promote your website on social media is by sharing your social profile and blog post's to everyone's DM. This is an important step as you would not have any followers at the beginning.

Even if you don't have any followers, create good content and share it people. Follow people who are interested in the same topic. You can find this by looking at your competitor's followers.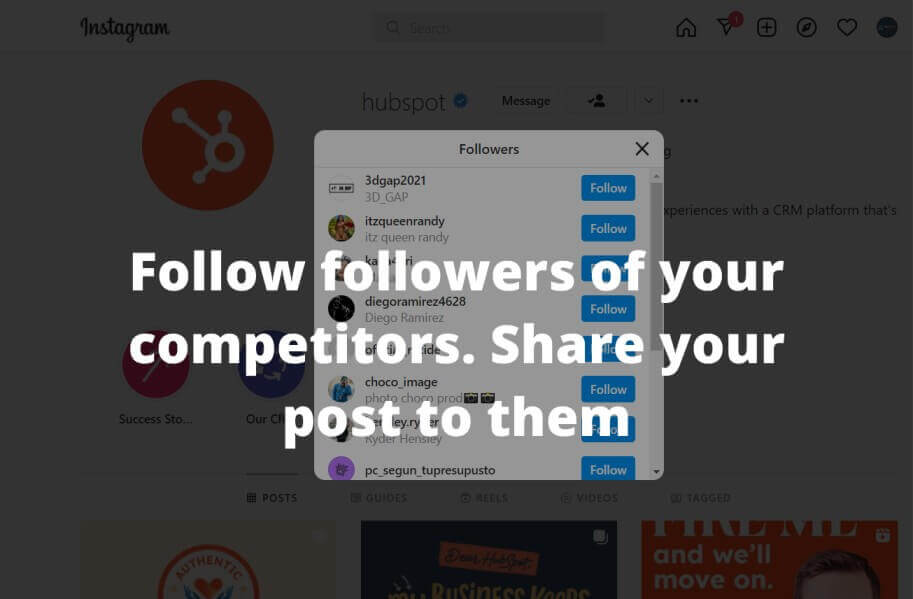 At the beginning of your journey, this is the only way to get an audience. You will have to reach out to people and ask them to check out your content.

Don't go and spam in their inbox. Send a personalized message asking them to check out your website and subscribe to your email list.

Tell them what they will get if they do so. Follow big authoritative pages that are on your niche.
The next thing to do is, Interact with other people's content. Like other people's posts and comment your opinion.

Build a connection with them. Then at the right time, you can introduce them your website.
On Instagram share your posts with your friends and relatives. Find people who are interested in your niche and share it to them.

For this, go to your competitors Instagram page. Go to Instagram profile that is already famous on this niche. People following them are interested in the topic, share your content with them.
On Facebook you can share it through your Facebook post's and messenger. Facebook post are also good way to promote your website.

Create Facebook groups and invite people to your group. Reach out to people on other groups on the same niche.
6. Go with the trend
If you want to promote your website on social media, you have to go with the trend. That way you can get more followers and audience.
Going with the trend on social media will increase the chance of your visibility in these platforms.

You will appear in more people's suggestions and the content you create will reach to more people.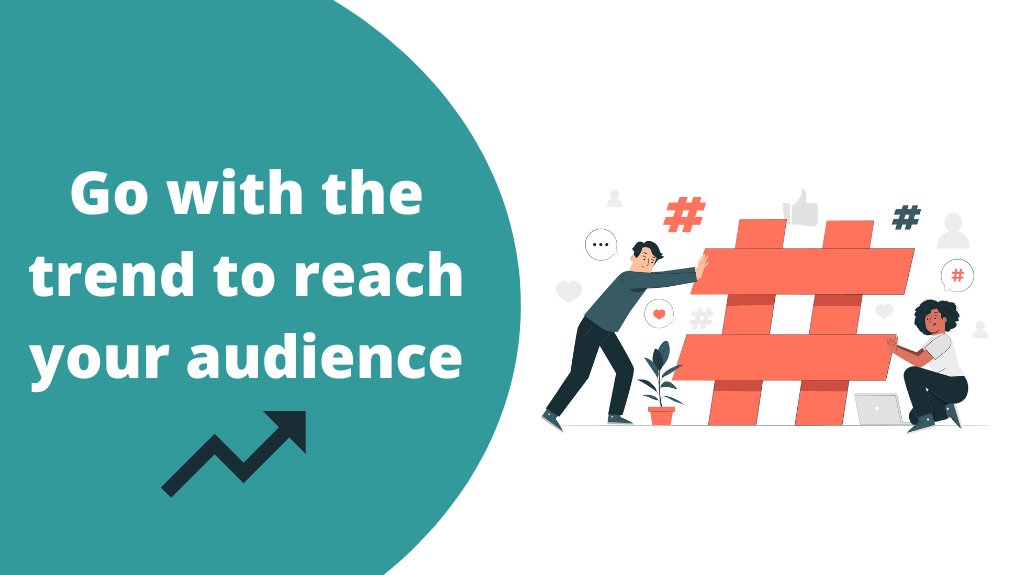 By going with the trend i mean create content that are useful but still follow that follow the culture.

Creating reels and videos with just explanations in it is good but it is less efficient in reaching more people.
Create educational content in an entertaining way. I have seen these days people creating content that explain a topic through a drama or skit.

And that works very well. Those pages have got tons of likes and followers by doing this.
You can explain any type of content in an entertaining way. You just need to idea.

Think hard and you will get it. Look at other people's content and how are they making it entertaining.
You mighty have also come across such type of content. Like some guy explaining something about the stock market in the form of a skit.

This type of content works very well as it is not boring and educational.
People come to social media mainly for entertainment. That doesn't mean only comedy or pure entertainment content only gets more people's attention on social media.
You should make the content in the same way but with some educational bit in it. Follow the same culture.

For example in Instagram reels, if there is a trending song, use it in your reels too.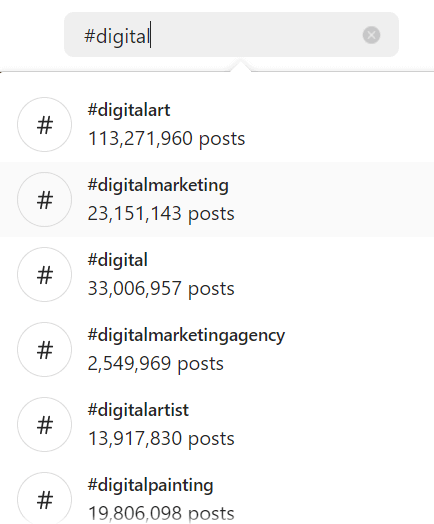 Do the trending reels but in a way that you can explain a topic. Use the trending hashtags in your posts and videos.
7) Post regularly
The most important thing in social media for getting followers is posting regularly.

And i have seen people publish a post and wait very long to see if it get likes and views. No, it won't get views.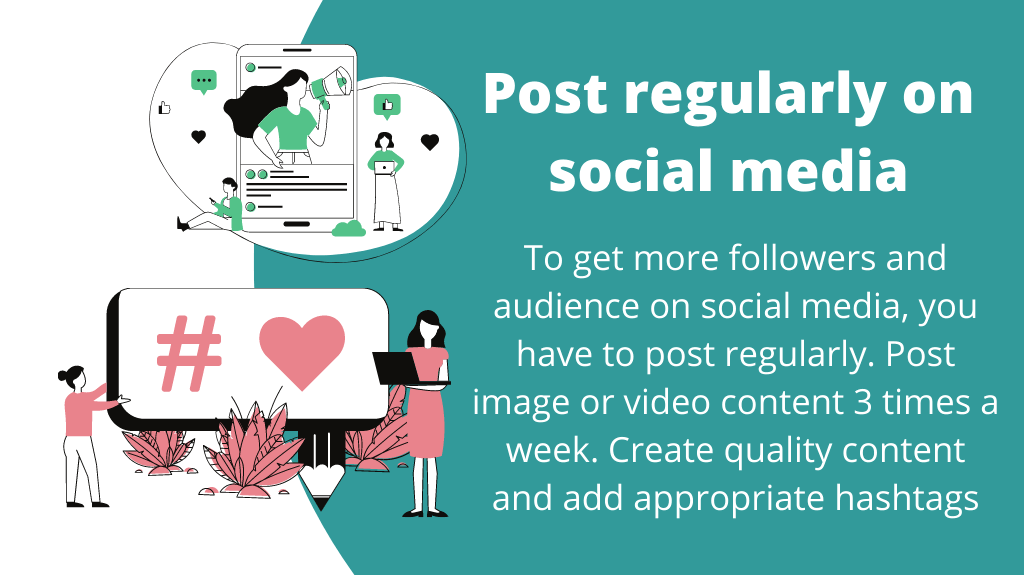 On social media, you won't get views just by posting one post. You need to post ton of content to get an initial audience. The more you post, the more you grow.
Most social media promote and suggest content that are latest and not old ones. Have noticed that on Instagram, all the post you see in explore page and in your feed is latest.
Most of them are 2 days old or maximum 7 days old. I haven't seen any post that is a year old suggested in my feed.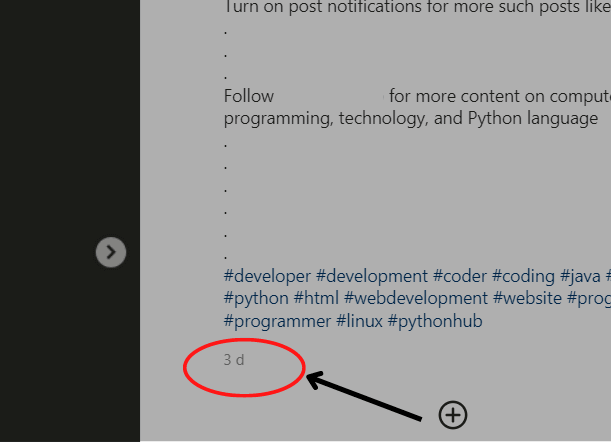 So posting content regularly can help you grow your social media pages. In social medias, the more content you produce, the more reach and followers you get.

There nothing like SEO in social medias to increase visibility.
There no optimizations you can do to improve your page except some factors like making your description and profile perfect.
All optimization you can do is in your content. Produce quality content regularly.
On Instagram , post at least in the interval of 2 days. Post image content reels, videos, IGTV videos and every type of content that you can produce.
On Facebook and LinkedIn post content at least twice a week. Promote your website in these social media platform every time you publish a blog post in your blog.
Make use of all content types available and post useful content. Share it to people directly to their inbox.
Be regular in Facebook group post's and interact with the people. Clear their queries and share use information along with your website promotion.
Content is the main thing through which you can promote your website in social medias.
8) Create a Facebook business page
A Facebook business page can help you a lot in promoting your website. They can appear in search results and help you gain more audience. I would say it is the best way to promote your website on social media.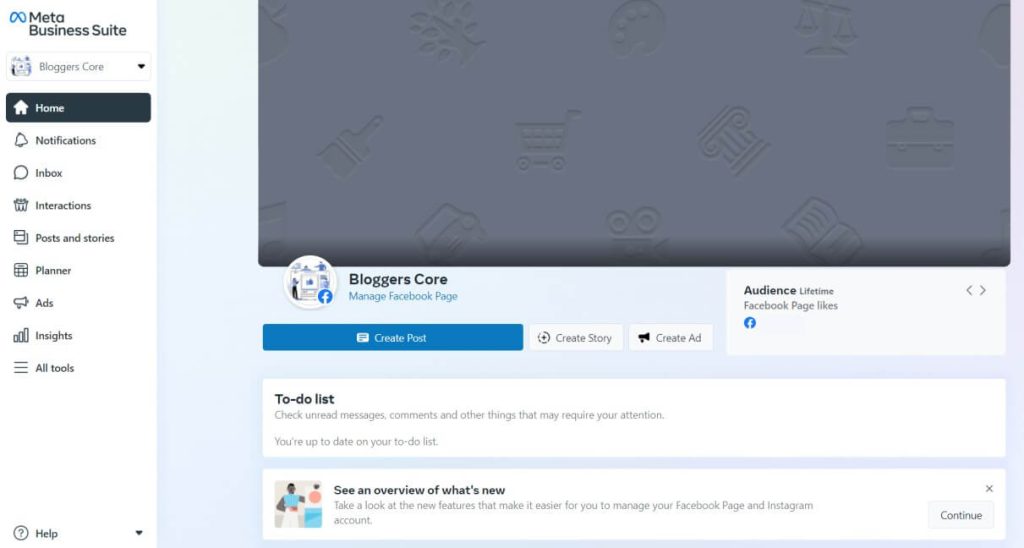 The Facebook business page could help you get sales and customers. These will help you increase your brand visibility. I have created a Facebook business page. It has helped me grow my audience.
On a Facebook business page, you can post content just like you do in your blog. You will have a dashboard where you can customize your page add stories, create posts, and share updates.
You will get a dashboard like this only if you sign up to Facebook business manager.
Otherwise you can post content on your page just like you create a Facebook post. You will get all options for creating something in the page itself. No separate dashboard.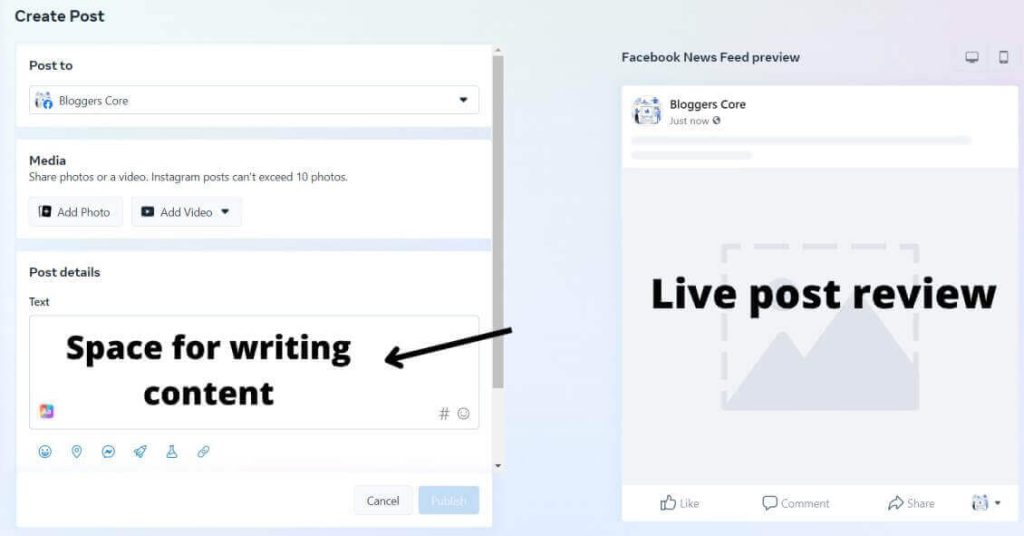 For promoting your website on social media Facebook business page is a great way.
Go and create your page. Offer services if you can. If you have the money you can run an ad to boost your page and get more likes.
Running a Facebook ad can help you get more visitors to your website, more likes, and followers for your business page.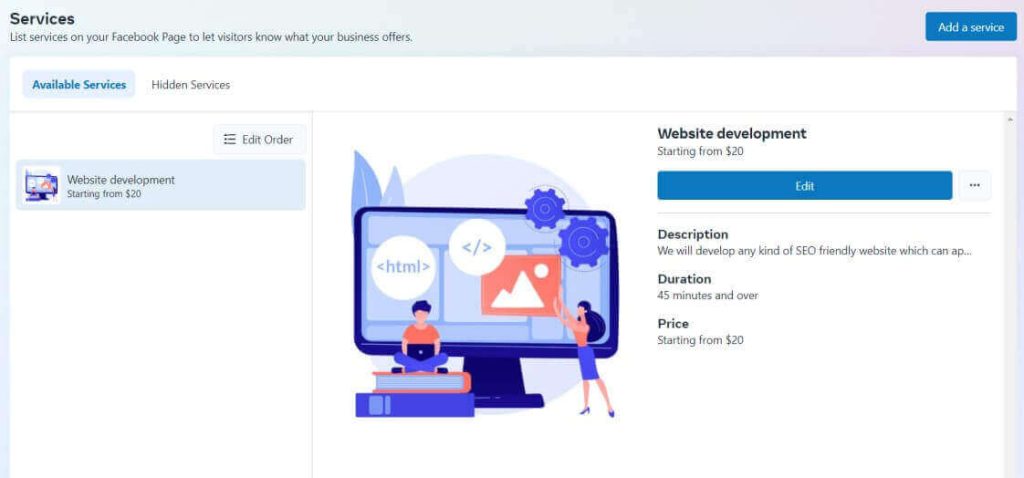 Promoting your website won't be a problem if you have an audience on Facebook.
Every time you publish something on your blog, post it on Facebook and other social media's too. Create stories asking people to check out your new post.
Your Facebook page can get views form Facebook search and through recommendation. Regularly post on your pages.
9) Create a Google business page
The next thing is creating a google business page. This is not like the Facebook page, but it is similar. Here also you can post content and provide services.
By creating a google business page for your website, it will appear first on google when we type the name of the business.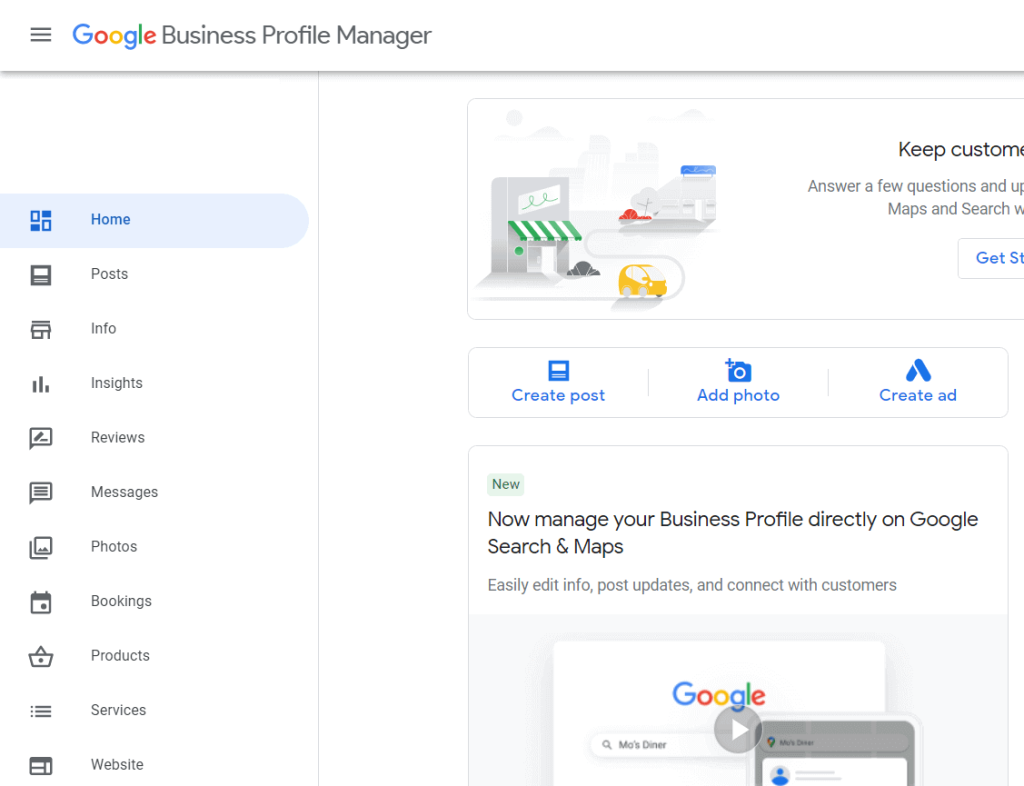 Here you can provide all details like phone number, location, and services you provide.
Google's business is for customers to discover different services they want. If you type something like "web development services near me", the result that google show is the business accounts. You can also see their location if they provide it.
Also, it helps you find different shops near. The shops that you see on google maps have google business accounts.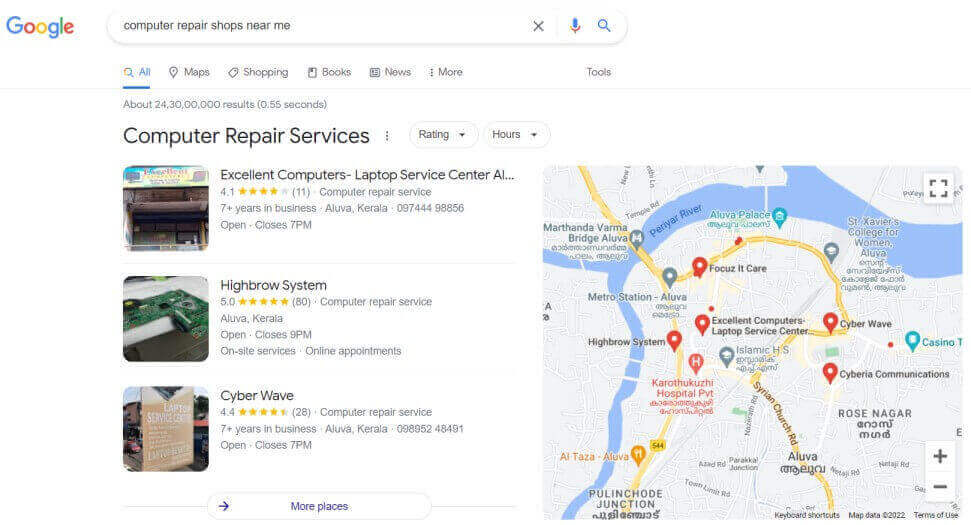 Your business will also appear on google maps if you create a business account.
if someone types your business/website name in Google, for example, mine is bloggers core, they will see the rich results with location, services you provide, contact information, if you are open or close, etc…
So this is a great way to promote your website on social media and also to increase search visibility.
10) Create stories
In social media, stories are short time-limited clips posted by the user that shares information about something. Most social media these days have this feature.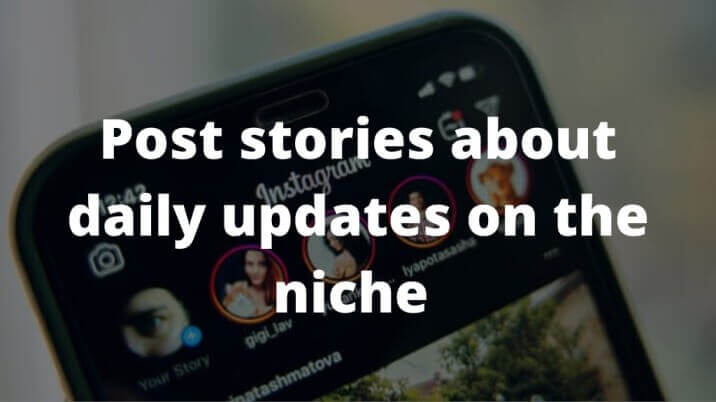 People watch stories to get daily updates and info about what's happening. Use stories to promote your website content. According to studies people prefer short narrative Instagram stories with photos, videos, and text.
There are more than 500 million active Instagram users every day. So you can see how popular this platform is. Use this platform to promote your website content.
Post stories every day on all platforms. Share tiny pieces of content that are informative. By doing this people who already follow you will receive more content and they will trust you. So if you promote your website or product, they will click through the link and check out.
11) Instagram reels
Instagram reels are very popular these days. Meta reports that up to 675.3 million users can be reached with ads on Instagram Reels. That is over half the total number of users of the app.
Moreover, people have started watching more reels. Instagram is populated with teens and most young people.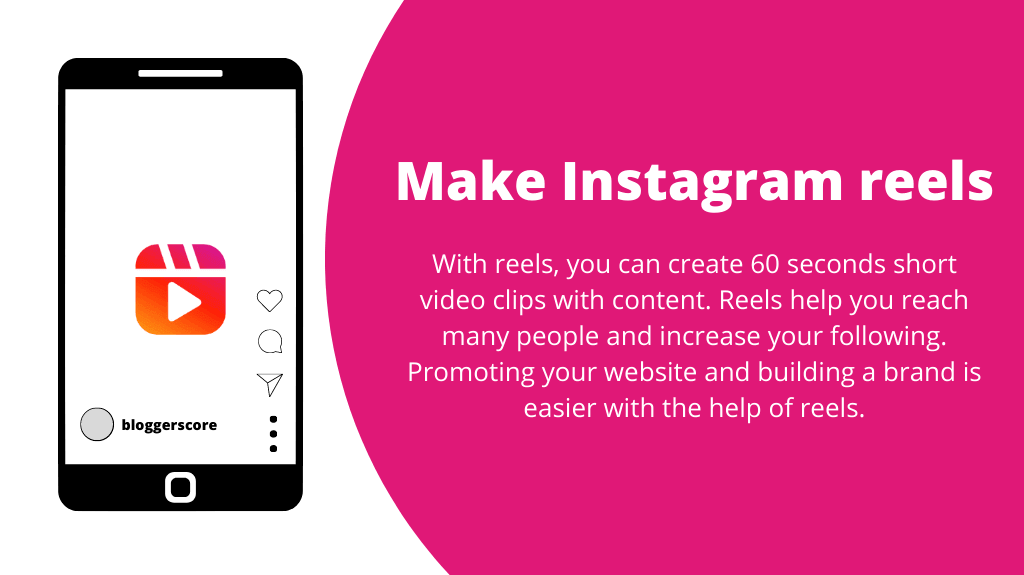 So Instagram is a great way to target young people and promote your website. Most users spent an average of 30 minutes on Instagram per day. Thus Instagram is a great platform to reach your audience. You can build a good community on Instagram easily with the help of reels.
Enough talking about the overall growth of Instagram, let's get into reels and how they can help you promote your business or website.
Unlike YouTube videos, reels can spread fast and get millions of views overnight. If you follow up on the trend and make content about your niche regularly, you can get significant results easily.
Creating reels might be a little tricky as most of the trending reels are some kind of dance or challenge etc… What you need to do is create content that follows the culture of Instagram.
Present your content or information you are gonna provide in the form of some skit, or in an interesting way.
Simply standing speaking about something would be boring and won't get views on Instagram. Present the content as a conversation between two people or through enacting etc…
You can also create challenges about your niche. Let's say you have a coding website.
You can create some kind of coding challenges for which users can register on your website and give a prize to the winners.
This way you can create engaging content and drive traffic to your website by promoting it through challenges.
It will also lead to brand recognition as the user will enter your website for registering and see your logo, website name, domain, etc…
Conclusion
To promote your website on social media, the key is to create content on different platforms and build an audience.
So now I hope you know how to promote your website on social media. Implement these to promote your website social media and to get consistent traffic.
Which of these ways are you gonna implement first ? Let me know in the comments.
If you want us to help you develop your dream website, contact me at [email protected].